07.23.08
home | metro silicon valley index | movies | current reviews | dvd review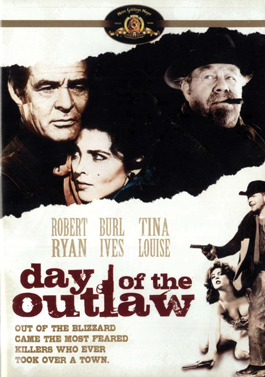 Day of the Outlaw
One disc; MGM; $14.98
By Michael S. Gant
André De Toth's black-and-white 1959 Western is as stripped down, spare and unsparing as Robert Ryan's powerfully contained performance. Ryan plays Blaise Starrett, a Wyoming cattle rancher warring with the local "pig farmers" who want to fence in his grazing land. Starrett's moral brief for wide open spaces founders on the fact that he's also been trying to steal the wife (Tina Louise) of one of the farmers. The bickering looks petty when a gang of outlaws arrive. Leader Jack Bruhn (Burl Ives) is a decent defrocked military man running from his guilty conscience about the Mormon massacre of 1857. His men, however, look upon the citizenry, especially the women, as a chance for some harsh R&R. As Bruhn explains with pulp-fiction relish: "Pace, he derives pleasure out of hurting people; Tex, rile him and you're going to hear some screaming in this town today." After many tense moments, Starrett mans up and leads the bad guys away on the ruse that he knows a secret passage through the mountains. The interiors have the flatness of a TV Western of the period, but whenever the action moves outside, veteran cinematographer Russell Harlan takes full advantage of the spectacular location work somewhere in the high country. A merciless snowfall covers the ground in this small slapdash burg in the shadow of some majestic peaks. The last section shows the men's horses frantically plunging forward through thick drifts; finally, the bitter cold takes a terrible toll as the outlaws, victims of their insatiable greed, turn on each other. De Toth, a Hungarian immigrant, was an unsung, versatile director. He made everything from House of Wax with Vincent Price to the superior film noirs Pitfall and Crime Wave to Westerns (Man in the Saddle) to Western noirs (Ramrod).
Click Here to Talk About Movies at Metro's New Blog
Send a letter to the editor about this story.