07.23.08
home | metro silicon valley index | movies | current reviews | film review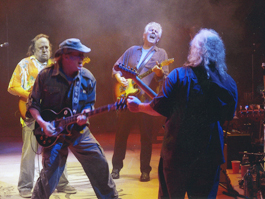 Rockers of Ages: CSNY perform onstage and onscreen.
CSNY: Déjà Vu
A rock tour turns into a political statement
By Richard von Busack
IF YOU go to see CSNY: Déjà Vu, a film by Neil Young done under the pseudonym "Bernard Shakey," you might expect the worst: the self-congratulations and navel-gazing of late-harvest musicians hitting the road. You would be wrong. Made in collaboration with longtime war correspondent Mike Cerre, CSNY: Déjà Vu is more concerned with the audience than with performers Stephen Stills, David Crosby, Graham Nash and Young. Interviewees here include Mountain View's Karen Meredith, a Gold Star mother whose continuing story has been covered in Metro; (www.metroactive.com/papers/metro/05.11.05/meredith-0519.html)
The documentary follows the group on its Freedom of Speech Tour. One of the stops focuses on congressional candidate and wounded vet Tammy Duckworth during her campaign for Henry Hyde's vacant seat in Illinois. And the concert footage is interrupted with a gathering of Iraq veterans in Colorado. Vet and protest singer Josh Hisle performs his Internet hit "A Traitor's Death." One of the most elating bits of music in this documentary is Hisle's on-camera jam with Young and his trusty acoustic guitar.
CSN&Y court trouble during their "Freedom of Speech 2006" tour in the summer of midterm elections. At this point, a good deal of the United States was still insisting that loose lips encouraged Al Qaeda. What a difference a couple of years makes. As a director, Young had a choice to make between showing his band coalescing, getting stronger along the tour, or else watching how a divided America functioned. I think he made the right choice by following the audience. The musicians are the first to admit that the band is stiff as a board in early dates. Those who loved CSN&Y the first time might not have known the truth behind Stills' joke: "[Neil] is Tony Orlando, and we're Dawn."
As ringleader, Young leads the tour through a battering by AM radio pundits who are still chortling over the way they had put the screws to the Dixie Chicks. On TV, America's last line of defense, Stephen Colbert, is ready to ask tough questions about this geriatric antiwar racket. Grilling Young, he snaps, "Is it just you, or is it the entire AARP?"
The richest part of CSNY: Déjà Vu comes in the scenes of the Atlanta show, where booing, outraged fans walk away from their $200 seats because the band performs a song called "Let's Impeach the President [for Lying]." The song is pretty bad from a musical point of view. Then again, so is "We Shall Overcome," also written for ease in mass singing.
In the exit aisle, one furious young Atlanta male makes what he supposes is a sardonic gesture: thanking the band profusely for the show while tearing up his tickets on-camera. Another squinting, wobbly elder rages against CSN&Y daring to speak out from the stage. Sympathy: zero. If I had a couple hundred bucks to spend on a concert, I would know a little about the band I was going to see. And I wouldn't presume that the composers of "Ohio," "Wooden Ships" and "For What It's Worth" to come out and warble "Teach Your Children" when those self-same children were getting shot up overseas.
By the time the band heads West to the glorious Red Rocks amphitheater in Denver, the members are functioning like the band they once were; they've transcended the hippie narcissism they've always been accused of over the years.

CSNY: Déjà Vu (R; 96 min.), a documentary by Neil Young, opens July 25 at the Aquarius in Palo Alto.
Send a letter to the editor about this story.