07.23.08
home | metro silicon valley index | music & nightlife | band review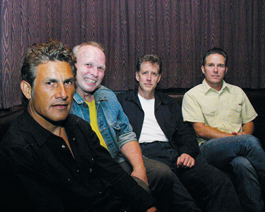 GRIN AND BARE IT: Whenever Phil Alvin smiles, he smiles all out.
Bloodied But Unbowed
The Blasters' Phil Alvin sorts through the unholy mess they've made of American music
By John Gentile
WHEN ASKED a question, Phil Alvin, the barrel-chested lead singer of the Blasters, talks and talks and talks and talks and talks and after a minute or so when you are wondering what the hell he is talking about, he says a single sentence that ties the rest together.
"Music exists in order to bring forward the collective knowledge of people that came before us," says Alvin. Frankly, between his rapid delivery of music history, his mind that seems to operate faster than his mouth and his penchant for breaking into 19th-century songs, the passer-by would think Phil Alvin is a certified loon. But really, he has built himself into a musicologist through playing and mastering America's early styles and now exists at a level of musical awareness that seems baffling to the lay ear.
But that all makes sense for a band that has made a career of wrapping what Alvin calls "American music" into a cohesive unit. When asked what that term means, he pauses and then creates a streaming definition.
"American music combines the musical and cultural traditions of West Africa with South American music, European music, with all those catholic chords," says Alvin. "The more stripped scales, the normal progressions would always match the rhythms with the chord structures. This restricted the envelope of sameness, the envelope of cohesion!"
OK, but be careful when you ask Phil about where American music began, because to him, acts like his hero James Brown are still the newest of the new.
"Smokey Joe the crack dealer has been here for 700 years. Thousands of years, thousand and thousands of years!" says Alvin. "The heroes, the battles, the rhymes, these are archetypes laid out in songs. You can change the names, you can grow an ego and you can say, 'I wrote this song.' Maybe you did, maybe you didn't, but many of the stories we hear, Br'er Rabbit, stories from Africa, stories from Europe, those stories were songs before they were written down. Homer didn't write the Iliad or Odyssey, he just was the first to write them down."
Blasting Off
The Blasters started in 1979 when brothers Phil and Dave Alvin decided to create a band that absorbed rockabilly, soul, country, blues and punk into one entity. But, while most people associate such a mix with easy listening grooves, the Blasters shared the stage and held their own against some of the West Coast's nastiest punk acts including Black Flag, X, and the Gun Cub. Now led by Phil, the Blasters are known for their aggressive, rocking live show.
"I just shoot way too big with a lot of passion," says Phil, breaking into laughter before continuing, "I'm not stupid and I'm not scared to fight if you want to do that! When ever I play, I play all out!"
But the Blasters show isn't a fight with the audience like it was with Alvin's punk contemporaries. Just as he waxes about the history of music in conversation, onstage Phil educates in emotion.
"I want the audience to be entertained, educated, sad if I want them to be sad," says Alvin. "I'm not trying to hurt them, but I may be trying to hurt some concepts that they have. It might be, though, who I am or if I say things they disagree with, but I say it with strength and authority."
Style is one thing, but get the guy going on genres and his booming voice gets even louder for a one-man dialogue on the subject.
"If I listen to an Elvis Presley record and he sings 'That's All Right Mama' and I say, 'That's rockabilly,' you'd say, 'Yeah,'" says Alvin. "Now, I go, 'Here's B.B. King, he's got a 22 piece orchestra and he's singing 'Sweet Sixteen.'' You say, 'That's blues music.' So then, here's Arthur Big Boy Crudup, and he's playing 'That's All Right Mama,' and I ask you what kind of music he's playing, you say, 'That's blues music.' But he's playing the same song that Elvis is playing! Man, you're not telling me anything about music, you're telling me what color the singer is! You're giving me social information! This cloudiness doesn't come from the racial makeup, it comes from the fashion! Evolution doesn't play around. Music is a strangled, bloody, but unbowed mess, suffering, but looking forward!"
To get the rest of this lecture, and to understand what the hell Phil is talking about, you're just gonna have to go see THE BLASTERS performing on Wednesday (July 23) at 9pm at the Blank Club, 44 S. Almaden Ave., San Jose. Tickets are $20. (408.29.BLANK)
Send a letter to the editor about this story.