07.23.08
home | metro silicon valley index | music & nightlife | band review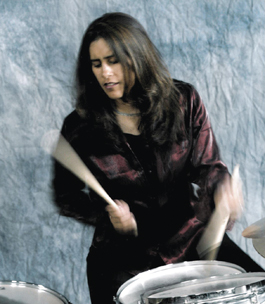 Photograph by Cathy Bauer
POST-BOP: Sylvia Cuenca has evolved into a percussive force of nature.
Going the Distance
S.J.–raised jazz drummer Sylvia Cuenca connects with jazz in the Big Apple
By Andrew Gilbert
THERE are several ways to measure the distance jazz drummer Sylvia Cuenca has traveled since moving from San Jose to New York City.
When she left town in 1985, Cuenca was a promising young player with energy and drive. In the past two decades, she's evolved into a force on the trap set, a masterly accompanist sought out by jazz legends, revered veterans and rising stars. As a bandleader, she's recorded two acclaimed albums, while assembling a repertoire of challenging post-bop compositions by some of jazz's most visionary composers.
For her annual trip back home to visit her family in the South Bay, Cuenca has lined up a series of gigs with her hard-charging organ trio featuring young Hammond B3 expert Jared Gold and ace guitarist Ed Cherry, a top-shelf New York player who spent more than a decade touring and recording with Dizzy Gillespie. Her Bay Area dates include Friday at Anna's Jazz Island in Berkeley, Monday at the Stanford Jazz Festival, and Thursday, July 31, at Jazz at Pearl's in North Beach, where powerhouse saxophonist Mel Martin joins the trio. On Aug. 3, Cuenca and her sidemen offer a clinic on arranging standards at the Jazzschool in downtown Berkeley.
Any time Cuenca takes the bandstand, she offers a master class in dynamic control and textural nuance. With her dark eyes flashing and her arms sweeping gracefully over the cymbals, Cuenca is a sight to behold, her compact movements seemingly at odds with the bright swirl of polyrhythms emanating from her drum kit.
Well Connected
Nothing indicates her rising stature more than the company that she keeps. Cuenca is the drummer of choice for beloved 87-year-old trumpet hero Clark Terry, who mentored an intense teenager named Miles Davis back in the 1940s. Fellow bebop-era masters such as Jimmy Heath, Frank Wess, Al Grey and Red Holloway have shared Terry's discerning judgment, as well as post bop innovators like Eddie Henderson, George Cables, and Kenny Barron, who have all hired Cuenca for tours and gigs.
"I'm just trying to play as much as I can," says Cuenca from her Brooklyn apartment. "There's always more to learn. Lately I've been studying Brazilian drumming with my friend Portinho, a brilliant player, and I'm thinking of taking timbales lessons. There are so many directions to go, and so much great music out there. I want to be able to play it all."
For Cuenca, the organ combo has been a particularly fruitful context. Her most recent CD, Exit 13, is a stellar Hammond B3 session featuring blues-drenched jazz guitarist Dave Stryker and organist Kyle Koehler, an important new voice on the resurgent B3 scene. Koehler's been is such high demand lately that Cuenca has found another rising young player for her working trio, Jared Gold, a player who's rapidly making a name for himself in New York through his work with brilliant conceptualists such as altoist Oliver Lake, drummer Ralph Peterson and guitarist John Abercrombie.
"The organ is like a huge wall of sound with such a wide spectrum of colors," Cuenca says. "As a drummer, it requires me to play with a lot of energy and conviction. But it's more than the instrument. It's the musician behind the instrument, that's what's important. Jared Gold is such a knowledgeable, tasteful and swinging musician. You'll be hearing a lot more from him."
Cherry, who has been heard in the Bay Area in recent years accompanying lustrous jazz singer Paula West, started hiring Cuenca back in the mid-'90s, attracted by her rhythmic flexibility, affable personality and wide-ranging musical interests. After several years, she turned around and began employing him for her own organ gig.
"I like different types of music," Cherry says. "Free jazz, standards, the blues, I like it all, and I like to play with musicians who are open like that, who enjoy playing different types of music, not just beboppers or straight rockers. For what I was going after with the organ group I thought she would fit right in."
As a bandleader, Cuenca has collected an imposing book with compositions by Herbie Hancock ("Chan's Song"), Wayne Shorter ("Prince of Darkness"), Donald Brown ("Theme for Malcolm") and Kenny Kirkland ("Chance"). She also includes a healthy dose of American Songbook standards in any given set, but it's her knack for opening up harmonically intricate tunes that defines her group concept.
"She likes playing those hard Freddie Hubbard tunes that you really have to think about," Cherry says. "Jared Gold has written some great pieces too, and she's really open to challenging music, not just playing your typical organ combo stuff. I've definitely heard her grow over the years. I heard her couple of times with Clark Terry and she sounded great, really strong."
Like many successful musicians, Cuenca has made the most of her connections. As an aspiring young drummer studying with Dave Eshelman at San Jose City College in the mid-1980s, she met tenor sax legend Joe Henderson when he performed with the college big band as a special guest. Several months later she made the move to New York City and had a chance to say hello to Henderson after catching his gig at the Village Vanguard.
Evidentally she had made an impression on him during their brief bandstand encounter in San Jose, and he got her phone number while mentioning the possibility of an upcoming gig. Still, when he called about a month later, she was sure a friend was pulling her leg, until it dawned on her that Joe Henderson was asking about her availability for an rapidly impending three-week European tour. "It was just a real sign that moving to New York was the right thing to do," Cuenca says.
Some of her most memorable gigs have come about at last minute, like a tour of Japan and Korea with piano master Kenny Barron, bassist Ray Drummond and tenor sax titan Michael Brecker. She got the call when drummer Ben Riley had to bow out due to complications from diabetes.
Barron says he had his eye on Cuenca for years, ever since he first heard her sitting in at an afterhours spot in Tokyo where American jazz musicians hung out. Knocked out by her work with Henderson and Terry, he immediately thought of her when Riley couldn't travel.
"What really impressed me is that she's not bombastic," Barron recalls. "Her playing is very, very tasty. She has good time, good imagination. Playing with her on that tour was a real pleasure. Brecker kind of put some fire under her and she came through with flying colors."
SYLVIA CUENCA performs on Monday (July 28) at 7:30pm at Campbell Recital Hall, Stanford University. Tickets are $10–$20. (650.725.2787)
Send a letter to the editor about this story.