07.23.08
home | metro silicon valley index | columns | style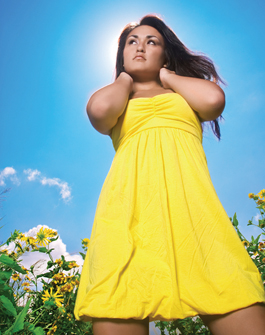 Style
Summer Success
By Joseph Rosenfeld
SOMETIMES the summer heat can torch one's fashion sense. Hot temps often cause people to dress under duress instead of for success, either due to lack of knowledge, or limitation of wardrobe. These lazy days of summer are no time to slack off on good style, especially if you're a working person and connecting with other people. So, here are my tips for looking stylish this summer.
Women
Before all the new fall deliveries overtake your favorite stores, check out what's being shown for summertime and you'll be tempted by sundresses, sheer tops, lacy camisoles and open-toed shoes. When the summer heat is at its peak, it's very tempting to relax your look and take a breather. But when the way you dress allows too much of your body to peek out, it may cause others who work around you to lose their breath, and you could end up taking some heat from your employer.
You might revel in showing some skin, but revealing your back, chest or stomach is an absolute no-no at work. After all, those fluorescent office lights are not going to tan your hide. So unless your job is a lifeguard or camp counselor, it's not advisable to look less than professionally desirable. Cleavage is another area to keep an eye on so others' eyes aren't staring there either. Even open-toed shoes are known to keep a lady out of lockstep in many offices.
While dresses and skirts are popular summertime styles, there are some things to keep in mind so the styles reflect success. Only wear dresses and skirts if they don't ride up the thigh when you sit down. Keep hemlines to or just below the knee. Sundresses and spaghetti strap dresses pose two issues. They can overexpose the body and are commonly too colorful for the office. Solutions are to find dresses or skirted outfits that incorporate no more than three colors. The more skin a dress exposes, the more mandatory a jacket becomes in order to maintain professionalism. In a more casual work setting, a summer weight cardigan knit can be an acceptable alternative.
Men
It's typical for a man to keep his professional look on the dark side. But it's totally acceptable to lighten up one's persona under the influence of summer's good vibrations. Wearing lighter fabrics in businesslike styles is easy enough to do. The tendency is to avoid wearing wool during the summer. But tropical wool is much more comfortable—and less prone to wrinkles—than one would think. In fact, it can be lighter and more breathable than wearing a typical weight of twill pants or denim jeans. It also is far more professional looking. Summer also provides an opportunity to lighten up the colors a man wears. Wear a softer, lighter, brighter, bolder color that looks good on you. In business settings where the policy is more relaxed, avoid wearing shorts, and keep your cotton pants and shirts nicely pressed.
Whatever you do, take measures so summer doesn't take the sizzle out of your professionalism.
Joseph Rosenfeld, the nation's only male Certified Image Professional, helps men, women and corporate sales, training and service organizations build professional images. Visit www.JRImageMentor.com for more information.
Send a letter to the editor about this story.