July 25-31, 2007
home | metro silicon valley index | silicon valley restaurants | review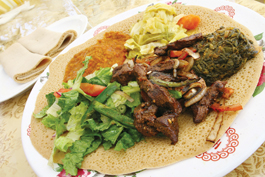 Photograph by Felipe Buitrago
And meat eaters, too: Selam's combination platter with beef
Poetry Selam
Ethiopian spot offers offbeat and enchanting options for vegetarians
By Stett Holbrook
I FEEL for vegetarians. I really do. Cooking for yourself is easy if you don't eat meat, but eating out can be hard. Other than the few vegetarian restaurants out there, options are few. Chinese food is a dependable choice as is Indian food. And then there's ... did I mention Chinese food?
Meat avoiders have relatively little to choose from in this carnivorous country of ours, but one alternative is Ethiopian food. It's not a meat-free cuisine by any means, but the quantity and quality of the vegetarian dishes make it a great option. And in San Jose, the locus of Silicon Valley's Ethiopian food scene, tiny Selam is a standout.
Often it's the places you have to work to find that turn out to be the good ones. Selam happens to be hidden in a mall off Winchester Boulevard and it took me a while to find it. The signage is hard to see and the drawn yellow curtains conceal the fact it's a restaurant. Out front are plastic tables and chairs where Ethiopian expats hang out drinking coffee and smoking cigarettes. Inside, the place is equally inconspicuous and drab and outfitted with just a half-dozen tables. There are a few generic landscape paintings that look like they could have come from a cheap motel. Above the counter is a blank menu board, while the wall-mounted TV is tuned loudly to CNN.
In spite of the austere setting, service is good. On my three visits an elegant Eritrean woman waited on me. Selam serves Ethiopian and Eritrean dishes, though I confess I don't know the difference. The waitress made me feel better when she said there isn't much difference between the two. She made several good vegetarian recommendations and steered me away from a few other dishes.
I'm in her debt for directing me to the timtmo ($5.99), a fantastic red lentil dish. The pale red lentils don't look like much, but the mushy mound is enough to make a vegetarian of anyone, at least for one meal. The lentils are earthy, spicy and delicious. They satisfied a hunger I didn't know I had. It helps that, as with many Ethiopian dishes, the lentils are cooked with niter kibbeh, clarified butter that has been steeped with spices like cumin, coriander, turmeric and cardamom. The ingredient adds a complex, spicy richness to the lentils that transforms them into something other than a plate of mashed legumes. Butter is like bacon for vegetarians. It just makes everything taste better.
Coming in right behind the timtmo is the hamli ($5.99), sumptuous braised collard greens infused with more of that magic butter stuff. Alicha ($5.99) is buttery rich, too, but the cabbage, potato and carrot stew retains enough texture and flavor that it works as a nice contrast to the other dishes.
All food is served on a plate atop a round piece of injera, that spongy, sour unleavened bread made from a protein rich grain called teff that also doubles as your utensils. You simply rip a piece off and scoop up your food. I tend to eat too much injera and it has a way of expanding in my belly, so be careful how much you eat.
While the flavor of the ssli ($5.99) is great, the thin purée of red peppers, green onions and tomatoes is hard to pick up with injera and more trouble than it's worth. It's more of a sauce.
As good as Selam's vegetarian dishes are, the meat items are pretty solid as well. Kifto ($8.99) is one of the better-known Ethiopian dishes, in part because it's so novel—raw meat bathed in niter kibbeh and dusted with berbere, another signature Ethiopian ingredient that deserves wider recognition. Like curry powder, it's not a single ingredient, but many, including cumin, allspice, cloves, fenugreek, turmeric and cardamom. Grind it all up and it's one of the most alluring flavors you'll put in your mouth. I bet the spice would do wonders on grilled chicken and fish.
Anyway, kifto is basically Ethiopian steak tartare, but they'll cook it a bit if you're squeamish about raw meat. If you're not, go for the gored gored ($8.99). While it sounds like the name of a graphic bullfighting movie it's really just a coarser, chunkier version of kifto.
I've listed the individual prices of dishes, but your best bet is to go for one of the combos so you can sample more at once. The meat combo ($10.99) offers one meat dish and a choice of three vegetarian items. The plate is big enough that vegetarians can even share with their meat-eating friends as long as the meaty bits don't co-mingle with the veggie bits.
There are no desserts, but there are number of Ethiopian beers that happen to be a touch on the sweet side like porter or stout. Try Meta or Melotty (each $2.75). And since Ethiopia is believed to the birthplace of the coffee plant, it so happens that Selam serves excellent espresso.
So for all you vegetarians, piscetarians and meat eaters, Selam is the place for you. But if you're a vegan and can't eat butter, there's not much I can do for you.
---
Selam
Address: 3120 Williams St., San Jose.
Phone: 408.984.9600.
Hours: 10am–10pm daily.
Cuisine: Ethiopian and Eritrean.
Price Range: $5.99–$10.99.
Send a letter to the editor about this story.