July 25-31, 2007
home | metro silicon valley index | columns | live feed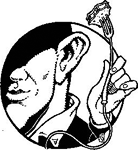 Live Feed
Blogger Come Lately
By Stett Holbrook
I MAY BE one of the last journalists in the world without a blog. I know that makes me about as cutting edge as an abacus, but now that nearly every man, woman and dog has their own blog I have to wonder if the world really needs another one.
According to the blog-tracking site Technorati, there are more than 90 million blogs. The blogosphere is doubling about once every 6 1/2 months. About 175,000 new blogs are created each day. There are more than two blogs created each second of each day, about 1.6 million postings per day, or about 18.6 posts per second.
In the time it took you read that, about 10 blogs were birthed. Is the world better for it?
Bloggers, of course, are the great democratizers of the media. No longer are professional journalists the only ones with access to the airwaves, so to speak. The perils of loosing so many citizen journalists who don't undergo the same training as traditional reporters are well known, so I won't recount them here. But I think the immediacy and breadth of blogs far outweighs their shortcomings.
Do journalists, the ones who already have privileged access to the media, need to blog? It's clear that some mainstream print journalists are required to start blogging by editors desperate to keep their newspapers relevant. I imagine conversations between reporters and editors going something like this:
Editor: (in best Montgomery Burns voice) "Jones, come here. I want to talk to you."
Reporter: "Yeah, boss."
Editor: "This blog thing looks like it's really catching on. Better start bloggering yourself. While you're at it, why don't you blog about this rap music stuff that all the kids seem to think is the bee's knees?"
Reporter: (inwardly) I wonder how long I could live in Mexico on my savings?
Despite all of this, I've decided to blog anyway. You're welcome, world. The blogosphere has a surplus of food blogs and now there's about to be one more. I've got something to say and I hope there are more than a few people who are interested in reading about it. (Hi, Mom!) But my reasons for jumping on the blogger bandwagon are because I think it will inform my work and make it better.
At their best, blogs have a richness and immediacy that's unmatched by any other form of media. Readers of the print version of Live Feed can write a letter to the editor, but in a blog the responses build on each other and create a kind of metadialogue, all the while taking me to task where I'm in error or opening my eyes to new information or points of interest. Or at least some really funny video. That's good for me and hopefully good for you, the reader, too.
While many blog boosters and more than a few old-school media types say the rise of blogs is making newspapers irrelevant, that's clearly not the case. According to data compiled by Technorati last year, The New York Times had nearly 80,000 inbound links from blogs, more than any other publication. While many of those links were undoubtedly critical and sought to prove the point that the mainstream media just doesn't get it, I'm sure the impetus behind all those links was a healthy mix of praise, scorn and just piqued interest. And that's as it should be. If a newspaper doesn't engage the public, it's little more than fish wrap. A more engaged public benefits all, and if blogs can be part of that then I'm behind them all the way.
My blog should be live in the next few weeks. Please stay tuned.
Send a letter to the editor about this story.