July 25-31, 2007
home | metro silicon valley index | the arts | stage | review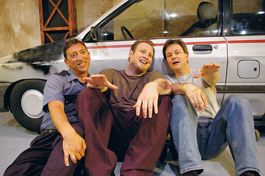 Photograph by Shannon Stowe
Guy power: Dann Howard (left), Adam Campbell (center) and Kit Wilder get in touch with their bodies in 'The Full Monty.'
Strip Play
City Lights charges through clothing-optional 'Full Monty'
By Marianne Messina
WITH MY BRAIN heading for midnight, I flew in from the East Coast in time to catch The Full Monty at City Lights, and, lo, I discovered the cure for jet lag. If the bare-assed gluteal flexes of Buddy's (Patrick Bridges) turbo-charged opening strip show a la Chippendales didn't reset my biological clock to wake-up, the song-and-dance number that follows it did. Swinging and crashing metal folding chairs, Buffalo, N.Y.'s down-and-out-of-work men put their troubles to music and startling, wild, Stompesque choreography by Shannon Stowe in "Scrap"—that's the steel-town metaphor for a useless man.
Playwright Terrence McNally's well-shaped story takes the rarely trodden thematic path of male self-esteem, tying a man's job to his sex drive and even (with a light touch and a sensational beat-up car) to his will to live. As debt piles up and marriages fray, the lucrative success of Buddy's act gives the unemployed, silver-tongued Jerry Lukowski (a winsome Kit Wilder) the idea that putting together a male strip show with his jobless buddies will solve their financial woes. It's a natural formula for "real men" humor, as in "a beer-drinkin', Chevy-drivin', real live man." Referring to the Chippie's lean mean bod, Jerry consoles his overweight friend Dave Bukatinsky (Adam Campbell who adds comic facial expression to his long list of talents), "Real men don't look like that; they don't have time."
Director Lisa Mallette aims dead-on for this macho stereotype. The sounds are loud and low; the action, big and heavy; the staging, forceful and energetic. As Dave's feisty but loving wife, Georgie, the talented, crisp-voiced Katie Anderson brings out the growl when she sings. Precise timing and choreography in an altercation between Dave and Jerry lets it erupt out of nowhere and ring incredibly true. Brilliant staging adds manly punch to "That Ain't the Goods," where the women dressed to the nines shout men's locker-room assessments from four corners of the room at the huddle of half-naked, would-be strippers cringing together center stage.
Many of the scenes combine memorable story with fresh humor and tight execution. The strip-club bathroom scene, in which Dave and Jerry, stuffed in a stall, overhear their wife and ex-wife, respectively, talking about them, starts out with the quick rollout, center stage, of a so-seedy men's john. Stealth-climbing the stairs to the high second level of Ron Gasparinetti's set, they pantomime sneaking into the "women only" club from the roof through a bathroom window, where they fall on top of each other (compromising position ensues). Not only are the bathroom disclosures hilarious, but introducing the wives' unmediated perspective starts the cynical manly bravado off with a vulnerable underbelly.
The stripper auditions come alive by way of Kathy Burch, a show stealer in her flaming red hair and wacky, self-designed outfits (purple skirt, orange top, black tights). As the strippers' adviser/pianist, an old Broadway pro and eight-time divorcee, Burch's short, energetic Jeanette Burmeister prickles with burr ball one-liners and worn savvy. She calls the sight of this laborer strip cast "a putz museum." Everyone in the cast breathes individuality into McNally's already imaginative roles. Jarrod A. Washington's "Horse" combines pudgy joviality and strong gravely pipes with smoking dance moves in "Big Black Man." Reflecting the play's rich, varied overtones, David Yazbek's jarring chromatics are enfolded in unexpected sweetness.
The many stellar duets include fascinating harmonies—a love duet between the grieving Malcolm (Dann Howard) and Ethan (Charles McKeithan—yeah, he buff) and dulcet blending among a cast crammed with talented singers (note the barbershop quintet). Relishing radical mood shifts, the show glides from saucy/funky audition to starry "You Rule My World" (rake percussion bells here). Harold (Tim Reynolds) and Dave sing a duet in two scenic zones, each revealing their insecurities—for Harold, "You" is his cash-guzzling wife, and for Dave "You" is his oversize belly. And yet it ends in a beautiful, unexpected high harmony. Like everything in this clean, complex, hilarious production, the sadder things grow, the funnier it gets. As to the full frontal male nudity—well, never mind.
The Full Monty a City Lights Theater Company production, plays Wednesday (Aug. 8, 15 and 22) at 8pm, Thursday–Saturday at 8pm, Sunday at 7pm (no evening show Aug. 19 and 26) with 2pm shows Aug. 19 and 26) through Aug. 26. Tickets are $25–$40. (408.295.4200)
Send a letter to the editor about this story.