July 25-31, 2007
home | metro silicon valley index | the arts | stage | review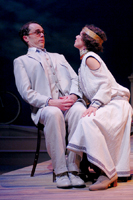 Photograph by David Allen
Lean to the left: Sarah (Zehra Berkman) makes a point with Mr. North (Mark Anderson Phillips).
Walk on The Wilder Side
TheatreWorks turns Thornton Wilder's memoir into memorable 'Theophilus North'
By Marianne Messina
ON A WIDE, outdoorsy set, where large columns and railings suggest a veranda, a gazebo or other lounging grounds of the leisure class, Mr. North breezily rides his bicycle down the elbow rake, both road and garden walkway. In Matthew Burnett's play Theophilus North (based on Thornton Wilder's autobiographical novel), it is "the spring and summer of 1926" in the moneyed town of Newport, R.I. Mr. North, a shiftless 30-year-old Yale graduate, finds employment reading to and tutoring the wards (children, wives, ailing fathers) of the wealthy—and soon entangles himself in their imbroglios.
Annie Smart's light, pristine set design (Leslie Martinson directing) captures it all—the spacious wealth, the characteristic Wilder sense of a "simpler time," the tone, buoyant overall with an occasional hitch, Mr. North's uncommitted peripatetic lifestyle and the sense of his easing into the summer of life. Burnett sequesters Mr. North's more brooding questions, about purpose and place in the world, within the occasional aside.
Mark Anderson Phillips with that turndown smile, so mischievous when he directs it knowingly to the audience, strikes the perfect tone for the resourceful, erudite but self-questioning Mr. North. Phillips keeps to the kinder side of smugness in a role that tempts supercilious eye-arching. Fond and frank with his young tennis student Eloise Fenwick (Kristin Stokes), he is craftier with her elder brother, Charles (Craig Marker). Eloise and Charles' mother (Zehra Berkman) engages Mr. North to overcome her son's snobbery and tutor him in French. When Mr. North determines that the snobbery is really the boy's shy approach to the pangs of adolescence, he lures Charles into the lessons by inserting a suggestive scenario into the dialogues. Marker's sheepish, toothy, tongue-tied grins reaped infectious giggles throughout the audience.
Part of the charm of this show is the way Phillips' ability to communicate that North sees himself, rather than fools and obstacles, in his employers and tutees. Mr. North's story is also the story of the curious and learned mind, its flexibility, its universal relevance, its ability to call up a deeper music amid distractions like wealth. The play basks in nostalgia for literature. Armed with books and ideas, Mr. North inspires the willful but lovelorn Myra (Berkman in flapper bandana) to Shakespeare and the aging academic, Dr. Bosworth (Jackson Davis), to freedom from his medical specialists, or as the self-made Mrs. Cranston (Julia Brothers) refers to them, "the deathwatch."
With seven actors playing 20-plus roles, it's hard not to envision a backstage of couture chaos—men's dapper summer suits, women's layered and highly accessorized dresses, Sarah Bosworth's especially fine drapery garnished with deep-hued jewels, all flying madly about stage crew heads (costumes by Taisia Nikonischenko). Once again, TheatreWorks takes great care in establishing mood. The wealthy women speak liltingly and with great deliberation. Happy orchestral music plays under amusing scenes and takes an abrupt caesura for North's asides (Cliff Caruthers, sound design). Parting images are served with a full course of complementary theatrical elements. In Theophilus' poetic monologue to end Act 1, he is accompanied by windy howls as he stands on the railing and, bathed in waning light, imagines himself living alone in a lighthouse. Nearby, the Newport denizens lose themselves in an undulating simulation of the ocean breathing.
Burnett maintains Wilder's joy of a quaint expression. "I may approach you if I hear a kettle boiling as it were," says the erect, knowing and gleeful Mrs. Cranston, North's adviser in the ways of the Newport world. As Theophilus North both teaches and learns to open to love, this production's tone of gentle amusement highlights the not so negligible impact of one such openhearted human being interacting in the world.
Theophilus North, a TheatreWorks production, plays Tuesday–Wednesday at 7:30pm, Thursday–Friday at 8pm, Saturday at 2 and 8pm and Sunday at 2 and 7pm through Aug. 12 at the Lucie Stern Theatre, 1305 Middlefield Road, Palo Alto. Tickets are $21–$57. (650.903.6000)
Send a letter to the editor about this story.