July 26-August 1, 2006
home | metro silicon valley index | columns | silicon alleys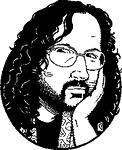 Silicon Alleys
Go Longhorns!
By Gary Singh
LEIGH HIGH SCHOOL is back in the news again, as this weekend's Grand Prix features local boy A. J. Allmendinger, who graduated from that beloved institution. In fact, an assortment of up-and-coming sports figures are starting to emerge from that school, including Jason Windsor, a pitcher for the Oakland A's who just made his first start last week. Another Leigh alumnus, Kelly Gray, played for the San Jose Earthquakes soccer club last year, and after they moved to Houston, he stated that if a new Quakes franchise emerges, he will come back to play here.
The Longhorns of Leigh High School are undoubtedly proud of all this, rightfully so. But let me tell you what it was really like attending Leigh back in the '80s when I was there. I will not bash the place at all—it was actually a decent school—but not without the typical personality clashes intrinsic to the high school experience in the '80s: the punk rockers hated the hippies; the stoners hated the New Wavers; and the jocks hated the metalheads.
Personally, I hated pretty much everybody, but to this day I still maintain a sense of humor about it all. There were quite a few interesting tidbits to uncover when I was there. I had the same auto shop teacher as did Patrick Simmons of the Doobie Brothers a few decades earlier. Yup, Simmons is another famous person who went to Leigh High School.
That particular auto shop class scarred me for life, as it was infested with illiterate jocks constantly picking on me because I had long hair and listened to a then-unknown band called Metallica. Years later, those same redneck imbeciles would drive down the street in their ridiculous 4-wheel-drive monstrosities, blasting—you guessed it—Metallica. And people wonder why I don't go to any of the reunions.
On the flipside, Leigh High School gave me an abundance of tender, poignant memories: Mrs. Long giving me a final grade of a C in English class instead of a B, solely for misspelling one freaking word in one freaking paper; Mrs. Valdovinos declining my request to do an oral report on the history of rock music, after she had assigned us to do a report on whatever we wanted; or my chemistry teacher giving me a referral for reading the Satanic Bible during a lecture and refusing to cough it up. If it weren't for the fact that he was also an accordion player, I'd probably detest him for life.
Leigh constituted a quintessential slice of everything that was the South Bay high school experience in suburban '80s America, befitting a John Cougar Mellencamp song: Driving my beat-up Datsun over to Del Mar High to pick up whatever "rocker chick" I was dating at the time. Drinking beer in various parks all over the south side of San Jose. Running from the cops. Staying out past my parents' curfew.
Call it the decline of Western civilization if you must, but hey, it was high school in suburban San Jose in the '80s, man. That's just what you did.
But anyway, none of this really matters because the most famous person to ever attend Leigh High School has been incarcerated since the late '60s. Susan Atkins, a.k.a. Sadie, perhaps the most distinguished member of the Manson Family, did indeed attend Leigh somewhere around 1963 or 1964, soon after it was built. She also apparently went to Carlton Elementary School. If that's wrong, someone please correct me, because I'm probably the only one in San Jose who knows or even cares about this. I learned about it all as a teenager at Leigh High School and I've been interested in serial killers ever since.
But aside from all that, the San Jose Grand Prix is this weekend and you definitely don't have to be a jock to enjoy the festivities. There's something for everybody. Just make sure you root for A.J. Allmendinger, the local boy. Go Longhorns!
Contact Gary Singh or send a letter to the editor about this story.