July 26-August 1, 2006
home | metro silicon valley index | movies | current reviews | film review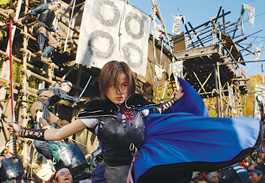 Strike a Pose: Aya Ueto prepares to duel in 'Azumi.'
Kiss My Assassin
When evil stalks the land, call 'Azumi,' an unstoppable swordswoman with dimpled knees
By Richard von Busack
JUST AS today's Japan is kept safe by schoolboys in short pants operating giant robots, medieval Japan—or so the newly minted legend has it—was protected by the good-hearted superassassin Azumi (Aya Ueto), trained from birth to be an unstoppable swordswoman. Ueto's clouded brow and downcast, California King-size mouth are two of the many ways she recalls the dear departed Buffy Summers.
Like Sarah Michelle Gellar's Buffy in the early seasons, Azumi still has a trace of baby fat on her. Azumi would rather be a normal girl than painting the hillsides with gore. However, the warrior is fated to a showdown with the Hannibal Lecter of medieval Japan. Bijomaru (the highly amusing Jô Odagiri) is a whooping fancy boy with long black locks and spotless gauzy-white raiment, who whiffs a red long-stemmed rose as he sashays.
Bijomaru is a master of that school of swordsmanship that allows him to slice an opponent, who then goes home, goes to sleep, gets up, goes out and buys a newspaper and reads half the sports section before realizing that he is dead. But even professional assassins who need to work with him are repelled by Bijomaru's sadism: "Your bad taste creeps me out," reads a subtitle.
The titles have Azumi on a mountain peak, her abbreviated robe stirred by the breeze, her knee socks spotless as always. She is surrounded by a halo of blurry computer graphics that are as deliberately 1970s as the titles of Superman Returns. The image is all the more rich because it is cued by one of Azumi's fellow pupils: "Where's Azumi?" "Yeah, she often disappears."
Who could blame her? There is so much grab-ass and horseplay among her fellow students that you can't wait until the ranks get thinned. Happily, within the first 15 minutes, the master of the school, Gessai (Yoshio Harada) halves the student body—more or less literally. In a dream sequence, we see what has made him so ruthless. On a vast battlefield covered with bones, he was given his sacred mission of peace to cleanse Japan of trouble-making warlords.
Burning down the academy to make sure there is no retreat, Gessai sends his adolescent soldiers out into the field. Azumi's first catch is a general relaxing with a fishing pole. "Mmm. A young girl on her own," he leers, letting us know that this truly is a case of him or her.
News of this general's predictable decapitation sends the film's principal villain, Kiyomasa Kato (Naoto Takenaka), into action. This noble, whose family emblem is a golden donut, deploys many a ruthless trick to ward off Azumi and her fellow assassins.
Watching Takenaka at work makes up for the tragic fact that John Vernon never got to wear a kimono. His voice is uncannily like Vernon's, however, and Takenaka cleverly lets us know his character is bad by uttering peals of cackling laughter. Initially, he sends out a pair of semihuman mercenaries. We meet them as they are arm-wrestling over a table with sharp-pointed weapons propped on it, just to make it more interesting when the other one loses. These thugs, too, are but appetizers for the entree to come.
The live-action version of a popular manga by Yu Koyama, Azumi is spirited but overlong (128 minutes). Still, Ryuhei Kitamura's film is more determinedly comic than the average swordsman epic. Azumi contains the usual borrowings: a crouching, cowardly duel out of Rashomon, a peek-a-boo hole through a man's hand like From Dusk Till Dawn and a kagemusha used to substitute for the one villain you least want dead. The production is ambitious in the finale, when a village of scum-of-the-earth psychos line a street-long death trap, with archers, cannons and guns holding the line.
Even the arterial spray on Ueto's none-too-expressive face looks as if it were carefully airbrushed. And as respite from the mayhem, Kitamura gives us a lyrical lakeside interlude where Azumi enjoys a sincere, Platonic, not-at-all-to-be-implied-as-lesbian friendship with Yae (Aya Okamoto), a female Chinese acrobat. Before the last battle, Yae tenderly applies rouge to Azumi's pillowy kisser with her fingertips, as good friends often will.
As opposed to the common fight scenes, which directors hope to fix in the editing, the battles are quite legible. Kitamura brings in a shot I've never seen before. Azumi is slashing it up while standing on a protruding rafter, and the camera completely circles vertically around her and her opponent as if the two battlers were the axis of a Ferris wheel. When a cannon is taken out with bamboo hand grenades, we cut to far above the ground to see a deserving villain blown skyward like Yosemite Sam. Azumi is the definition of the good-bad martial-arts movie. This movie's bad taste didn't creep me out at all.

Azumi (Unrated; 128 min.), directed by Ryuhei Kitamura, written by Isao Kiriyama, Yu Koyama and Rikiya Mizushima, photographed by Takumi Furuya and starring Aya Ueto, opens July 28.
Send a letter to the editor about this story.