July 26-August 1, 2006
home | metro silicon valley index | silicon valley restaurants | review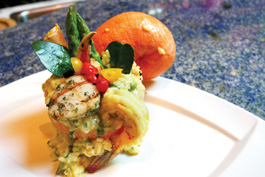 Photograph by Felipe Buitrago
It's Risotto With a Peel: Risotto limoncello at Madison and Fifth
Take the Fifth!
Bold and daring, Madison and Fifth is a crossroad of tradition and modern attitude
By Stett Holbrook
MADISON and Fifth describes itself as a New York-style Italian restaurant. On my first visit to the 6-week-old Palo Alto restaurant, I asked my waiter what that meant and he said it's Italian food as it's served in New York. I asked for a less vague definition, but he couldn't get any more specific than that. After three good meals here, I'm calling Madison and Fifth Italian food with attitude. The menu is bold, flashy and a little over-the-top. Maybe that's what my waiter meant by New York-style Italian.
Madison and Fifth is the first West Coast restaurant for a trio of New York-based restaurants. Before it opened in early June, the space housed an antique furniture store and required seven months of remodeling work. The labors have paid off; the restaurant is strikingly handsome. The big, accordionlike wooden doors open up to the sidewalk, blurring the lines between indoors and out. The handful of sidewalk tables offer a prime spot to take in passers-by on warm days and nights, of which there have been plenty of late. The swirly yellow marble floors, high ceilings, long curving granite bar, big colored-glass light fixtures and towering wood-fired oven give the long dining room a lively, confident feel that draws you into the party. Mirrors on the wall hung below New York street-scene murals and rows of wine bottles are tilted at just the right angle to make the dining room feel larger and allow you to discreetly check out fellow diners and what they're eating.
What they're eating is either hearty, rustic food or gilded, generous dishes that teeter on the overwrought. There's not much middle ground. Meals start with what has to be one of the best freebies around: a generous plate of marinated olives, caper berries, orange peel, celery and onions and a few cubes of mortadella on the side. Add some of the good focaccia and you're halfway through your first appetizer. But there's lots to try here so don't fill up on olives and bread. Salads are particularly good, but I'm not talking about the typical plate of vinaigrette-topped greens. Segato di carciofi ($12) combines marinated and thinly sliced artichoke, celery and button mushrooms tossed in a lemony vinaigrette. This refreshing salad is served in a bowl made from the last few leaves of a head of radicchio. The edible container technique is a device that the kitchen employs a lot. Even better was the asparagus salad ($12), a gilded jumble of snappy asparagus spears, buttery fava beans, prosciutto and a heady but restrained truffle vinaigrette topped with papery shavings of Parmesan cheese.
Madison and Fifth also serves a variety of carpaccio plates, thinly sliced beef, fish and fruits. Although it might have worked better as a dessert, I still liked the gratin of pear carpaccio ($11), slices of baked pear sprinkled with salty, nutty Asiago cheese and walnuts and drizzled with a honey-truffle vinaigrette.
The yellow-tomato gazpacho special ($11) is one of the most pimped-out dishes on the menu. The chilled soup arrives in a cocktail glass laden with a spear of celery, red bell pepper, sliced avocado and a radish. A single fat shrimp dangles over the side, as if it's been forced overboard by the melee of vegetables. The golden soup itself was refreshing and quite good. It just takes a little digging to get to it.
I have to give the kitchen credit for placing sautéed chicken liver ($12) on the menu. There is a numbing homogeneity to many Italian restaurant menus, but Madison and Fifth is willing to take a bit of risk with dishes like this. While the metallic, liver flavor was too intense for me, the slow-roasted pearl onions and satiny balsamic vinegar reduction sauce makes this a must-order for liver lovers.
Grilled entrees are quite good. The lamb special ($31) one night included a mint and thyme-encrusted steak, grilled a perfect juicy medium rare and fanned out over the plate atop a crispy layer cake of potato, eggplant and tomato. A scattering of mint leaves and arugula atop the plate finished things off. Check out the roasted duck ($22), too. Succulent leg and breast meat yielded easily to the fork and paired well with the rich vin santo (a kind of dessert wine) sauce. The truffles in the truffled mashed potatoes were hard to detect, though.
My favorite dish of all was the pappardelle ($18) special, wide flat noodles tossed with plump morel mushrooms and shredded chunks of osso buco. Standing tall on the plate was the beef shank bone with a fork for digging out the rich marrow inside.
Those were the rustic and hearty dishes. In the over-the-top category was the shellfish risotto ($25), a special on one my visits. The risotto arrived in a bowl made from grated and fried Parmesan cheese, a novel idea that nevertheless reminded me of those taco salads served in a tortilla shell basket. The green-tinted risotto looked like it was going to be too gummy, but I was surprised by the lightness and delicacy of the rice. The heaping serving was chock-full of Dungeness crab, crayfish and shrimp and tinged with a subtle shellfish flavor.
Desserts are solid, but not as strong as the rest of the menu. Fried ravioli ($8) filled with chocolate hazelnut and banana is one of the restaurant's signature desserts. But instead of pasta, the ravioli is more like pastry, crisp and flaky. It's a little dense but good with the pumpkin ice cream on the side. Chocolate soufflé ($11) is like a cross between a soufflé and a molten chocolate cake; the outside is light and airy but inside is a deep, dark well of molten chocolate. C rème brûlée ($8) is on almost every restaurant's menu. but here the green tea version of the dessert was uncommonly silky and rich with a perfectly constructed burned-sugar mantle that crackled with a rap of my spoon.
Madison and Fifth gets busy shortly after opening, but the affable and knowledgeable waiters keep things moving. They're dressed in dark suits and give the place an uptown vibe. Add up the food, the service and the urbane ambience and I'd come back in a New York minute.
---
Madison And Fifth
Address: 367 University Ave., Palo Alto.
Phone: 650.323.3900.
Hours: Noon-3pm and 5-11pm daily.
Cuisine: Italian
Price Range: $12-$31.
Send a letter to the editor about this story.