July 26-August 1, 2006
home | metro silicon valley index | music & nightlife | preview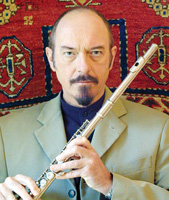 Aqua Boogie: Jack Black needs to stop with his Ian Anderson impression.
Flute Loop
A secret to rock & roll longevity can be found in Ian Anderson's underwear
By Spence Abbott
OVER the years, pop culture pundits have questioned Jethro Tull's longevity. They do so by tossing seemingly ironic song titles ("Living in the Past" and "Too Old to Rock & Roll" being prime examples) back into the face of the band that crafted the seminal 1971 release Aqualung. While the urge to dismiss the band and its 39-plus-year career can be strong, the music of Tull is still very much relevant. If it weren't, then frontman Ian Anderson and company would have long ago hung up their flutes, guitar and other instruments and disappeared forever into quiet lives amid the idyllic English countryside.
The main reason that Tull is still around is because—like the Rolling Stones or David Bowie—nobody as of yet has risen up through the rock & roll ranks to replace the group or its sound. How many rock-oriented flutists can you name? Exactly. Anderson is still having too much fun doing what he's always done best: playing music. However, he isn't merely content trotting out the "Best of Jethro Tull" setlist each night. Instead he enjoys tweaking the audience's perceptions. On his current tour, Anderson teams up with a different orchestra each night (the Skywalker Orchestra for the Mountain Winery show) to reinterpret the music of Jethro Tull with a symphonic flair.
Anderson also handpicked the youthful violin prodigy Lucia Micarelli to accompany him on the road. The two bonded over a simple connection: Anderson is a rock musician with classical sensibilities, and Micarelli is a classical musician with a rock aesthetic. "I think it's very much those two things," affirms Anderson. "Lucia is one of those people who is curious as a musician. She wants to know about how things work and how you can adapt your style to embrace other kinds of musical traditions and cultures, just as I do. It's all about broadening your experiences, broadening your appreciation of music through working with others."
Yet it goes beyond their shared love of musical reinvention and curiosity. "I enjoy working with young people," says Anderson. "They have something to teach me or, even if not to teach me, at least to remind me of, which I think is a vital message for older musicians, to continue to learn. Music doesn't just wrap itself up in a neat bow when you're in your 20s. There's something to keep learning about the musicianly life all the way through. You never stop having the opportunity to learn, and that's an important thing."
His thirst for knowledge has not only helped keep Anderson's youthful countenance but has also aided in sanity maintenance. "There are those of us who have been lucky enough to continue to make a living out of being musicians whilst not just repeating ourselves and sinking into an endless re-creating of our greatest hits," muses Anderson. "The idea of just kind of being a mobile jukebox and going out and endlessly recycling the old stuff, the same old repertoire, it may not be a bad way of earning your living, but it's not a very rewarding one artistically.
"I think those of us who are fortunate enough to mix re-creating the old with presenting a little bit of the new and fostering the talents of others, as well, by having new musicians to work with—I think this is perhaps more enjoyable than just being out there hacking out the same old stuff again. I think there's more to music than just going out and presenting it in a way which is once again trotting out the same repertoire and playing it in the same way. It's kind of fun to screw around a little bit with your own repertoire and to present it in a different context and mix it up a little bit. Sometimes you do the stuff the way it's always sounded. Sometimes you change the arrangement and do it in a way that people haven't heard before. That's all part and parcel of keeping alive and well and sane as a musician."
Staying sane is one thing and continuing to have fun is another, but Anderson also takes pride in feeling responsible to his craft. This is manifested via his undying practice of sound checks, pre-show rehearsals, and taking care of his own instruments sans guitar techs or flute roadies. He refreshingly eschews the whole Axl Rose/Diddy rock-star prima donna aspect of the job.
"The day I let somebody else change my guitar strings or clean my flute is the day that it's time for me to stay at home," says Anderson. "I feel very strongly about those things. I really don't like the idea that there are musicians, many of whom never touch their instruments; they have these servile toadies who change their guitar strings, tune their guitars up for them, iron their clothes before they walk onstage. Good God! What are these people? It's ridiculous.
"I do my laundry in the hotel basement like any real man does. Real men wash their own fucking underwear! They don't get some wanker to do it for them."
Therein might be the key to Anderson's ongoing success—that he still washes his own underwear. "I would like to think so but probably not," he laughs. "A man has to do what a man has to do. Getting yourself shaved and tidied up and cleaned up is something I think is part of the job. I think that applies to looking after your musical instrument and preparing for a show. I don't really like the idea that with success comes the obtaining of a number of servants who in some quaintly Victorian fashion sort of polish your boots before you go into battle. Fuck that!"
To look at it another way, for Anderson to continue to be creative he has to continue getting his hands dirty. All of which brings us back to where we started. Too old to rock & roll? Not likely. Living in the past? It's quite all right, just as long as you don't continually try to re-create it and always keep one foot pointed toward the future. And don't forget to pack detergent and fabric softener in the gig bag.
Ian Anderson with the Skywalker Orchestra, conducted by John O'Hara, plays Aug. 2 at the Mountain Winery (14831 Pierce Road, Saratoga). Tickets are $49.50-$85 and available through Ticketmaster.
Send a letter to the editor about this story.