July 26-August 1, 2006
home | metro silicon valley index | movies | current reviews | film review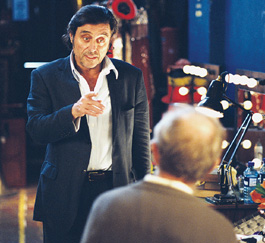 Welcome to F&*#$%) London: Al Swearengen travels through time and space to help Scarlett Johansson and Woody Allen in 'Scoop.'
Murder, She Wrote
Scarlett Johansson tracks down a killer with help from beyond the grave in Woody Allen's 'Scoop'
By Richard von Busack
WOODY ALLEN'S Scoop and Kevin Smith's Clerks II provide impressive love objects. Rosario Dawson dancing on a rooftop in Clerks II is just about the most joyful moment in this year's cinema. Scoop follows suit with the Bardot-like image of Scarlett Johansson stretching out poolside in a red one-piece bathing suit. Displaying an actress to maximum advantage seems like a common talent, so why is it so few directors can do it? These flashes in Scoop and Clerks II are as loaded with charm as a vintage cheesecake postcard.
Pretty as she is, Johansson is not a strong personality, but Allen shapes her appealingly for Scoop. She plays Sondra Pransky, an ambitious American newspaper journalist in London. At a performance by a stage magician, Sid Waterman (Allen), she is recruited into a disappearing trick. Inside the magician's box, she encounters Joe Strombel (Ian McShane), the ghost of a famed journalist, who tips her with his last, uncompleted story. He knows the true identity of the infamous Tarot Card Murderer, who is the politically ambitious son of a peer.
Early on, McShane, immortal for Deadwood, plies his theatricality on the ferry across the Styx: "Joe Strombel, coronary thrombosis," he rumbles, introducing himself to a fellow dead passenger. Sadly, McShane drops out of the film in the last third. Due to circumstances more amusing to watch than to write about, Sondra falls in love with the suspect; it's Hugh Jackman, looking as clenched-jawed as Peter O'Toole in The Ruling Class. Flat spots and holes litter this mystery. And sadly not much heat passes between Jackman and Johansson. Instances of awkward dialogue break out everywhere—in the giggling conversation between two college students and the talk between journalists at a pub table.
As in Match Point, the change of cities and light does Allen good. He uses the same talented cinematographer, Remi Adefarasin. Where Match Point was sultry and rainy, Scoop is a summery film with the sort of light-spirited music that used to always be pulled out of libraries for early cartoons, including a Strauss polka and bits of Prokofiev and Tchaikovsky.
In Melinda and Melinda, Allen's thesis was that an identical story could be told from either a comic or tragic view. Now he's proving it by making a funnier version of Match Point, while again stressing the social discomfort that made his comedy successful. Relocating to London makes Woody Allen a great Jewish comedian again. And being a Brooklyn shlub in a ever-so-slightly anti-Semitic drawing room spurs one of Allen's smoothest quips: "I used to be of the Hebrew persuasion, but I converted to narcissism." Some will dismiss Allen's latest as too much of the same. And some will see Clerks II as proof that Kevin Smith will never get over his puerile tendencies. Both of these silly, sometimes slapdash comedies seem as essential to the summer's pleasures as hot sun or cold wine. They almost merge in the memory, and they'd make a great double bill.

Scoop (PG-13), directed and written by Woody Allen, photographed by Reni Adefarasin and starring Scarlett Johansson, Hugh Jackman and Ian McShane, opens July 28 at Camera 7 in Campbell and Camera 12 in San Jose.
Send a letter to the editor about this story.