07.30.08
home | metro silicon valley index | movies | current reviews | dvd review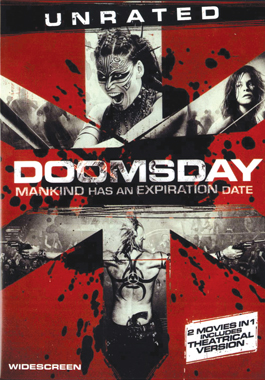 Doomsday
One disc; Rogue Pictures/Universal; $29.98
By Michael S. Gant
There's a fine line between homage and rip-off, and director/writer Neil Marshall (The Descent) zooms right over it. His apocalyptic thriller Doomsday features a long auto-chase sequence that re-creates Road Warrior almost shot for shot. There's even a Mohawked skinhead shooting a hand-held crossbow. Some early scenes in an isolated, plague-infected Scotland full of really pissed-off punks heavily reference John Carpenter's Escape From movies. Look closely for the chained-up gimp in a leather body suit, a la the basement horrors of Pulp Fiction. It's fun to see the classics remembered, but hell, they're easily available on DVD—it's not like they are archive treasures from the silent era. Sometime in the near future, corrupt politicians (aren't they all?) order a special-ops babe (Emma Cleasby) and her team to infiltrate the plaque zone to figure our why some people are immune. Much mayhem ensures. The best stuff involves a cannibal chick with Maori face tattoos who entertains a blood-thirsty crowd with some obligatory pole dancing before barbecuing one of our heroes. Then, weirdly, the action shifts to a medieval castle where a renegade scientist (Malcolm McDowell, he of no shame) commands an army of knights in armor. Meanwhile, back in England: gratuitous Bob Hoskins. If you don't mind the derivative nature of the project, Doomsday charges ahead at a brisk pace with lots of explosions and dismemberments. The extras include several making-of docs.
Click Here to Talk About Movies at Metro's New Blog
Send a letter to the editor about this story.