07.30.08
home | metro silicon valley index | columns | live feed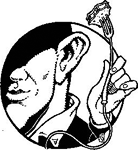 Live Feed
Dessert Desert
By Stett Holbrook
THERE is a terrible, soul-deflating problem in the restaurants of Silicon Valley today that demands immediate attention. The problem has gone on for too long and it appears to be getting worse. The problem of which I speak is the sorry state of desserts. Time and again, I finish what would otherwise be a good meal and turn to the dessert list only to be confronted by the same old gallery of bores. Tiresome tiramisu. Monotonous molten chocolate cake. Cringeworthy crème brûlée.
Because desserts are the last part of dinner, those final bites of the evening take on a special importance. Last impressions are just as important as first impressions, and I hate it when a weak dessert snuffs out the afterglow of a good entree.
Of course, there are exceptions. The relatively few restaurants in Silicon Valley that employ pastry chefs naturally do a better job. They have the time to develop desserts that hold their own against the rest of the menu. Manresa, Parcel 104, the Plumed Horse and Chez T.J. come to mind.
There are also a handful of restaurants that do well without pastry chefs. Los Gatos newcomer Cin-Cin wins points for its flagrantly delicious cheesecake-filled beignets. Paragon Restaurant's bread pudding reveals a kitchen that does quite well without a pastry chef.
Pampas Restaurant in Palo Alto takes a different tack. The restaurant hired former Top Chef pastry chef Marisa Churchill as a "consulting pastry chef." That means she came up with a dessert menu, trained people how to make the dishes and then left. Judging by the great chocolate torte with caramel ice cream, crème fraîche sauce and bacon–Brazil nut toffee, I'd say it was money well spent.
But much more common is the do-it-all chef who must create the entire menu, from appetizers to desserts. Chances are, he or she is more comfortable with starters and entrees than desserts, but because there have to be a few sweet dishes on the menu the overworked chef goes with a few supposed crowd-pleasers and hopes no one pays too much attention.
But too often the desserts come off as half-hearted afterthoughts. While the rest of the menu might strive for originality, seasonality and personality, the dessert menu is a let-down to an otherwise good meal.
For the restaurant muddling through with the same old, tired desserts, I say give it up. You're not fooling anyone, and worse, you're leaving diners with a bad taste in their mouth as they contemplate how much to tip their waiter. I know not every restaurant can afford a pastry chef. But instead of trotting out a dessert list filled with the usual suspects, why not just do something simple like offer a few scoops of gelato, a warm cookie and call it a day?
Send a letter to the editor about this story.