August 1-7, 2007
home | metro silicon valley index | music & nightlife | preview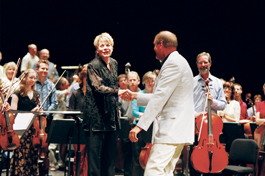 Photograph by Dixie Sheridan
Magnetic force: Marin Alsop has drawn the best contemporary composers to Cabrillo's annual festival, including Michael Daughtery.
Musical Wave
The Cabrillo Festival of Contemporary Music announces big set of premieres for summer concerts
By Scott MacClelland
GET YOUR boards waxed: the giant swell that rolls into Santa Cruz in late July has only gotten bigger and more awesome. It begins its curl with the arrival of Marin Alsop, a one-woman musical tsunami who deigns and feigns to inundate us with good news from today's best composers.
Not only has the Cabrillo Festival of Contemporary Music (July 30– Aug. 12) swelled the ranks of its subscribers, but the world's principal centers of new music have also taken serious note. Alsop's decision to de-emphasize her recent parade of stage and multimedia productions in favor of symphonic works seems to be paying off with increasing media visibility.
Leading composers of orchestral music are now repeatedly showing up with their wares at Cabrillo. From the catbird seat, Alsop is among the first they contact for world, U.S. and West Coast premieres, and she now enjoys the luxury of being able to say no, or "Maybe next year."
One to whom she said yes right away is bluegrass fiddler Mark O'Connor, two of whose concertos enjoyed successful premieres at Cabrillo. For this summer's outing, O'Connor will be on hand for the first performance of his Symphony no. 1, Variations on Appalachia Waltz, and possibly a new chamber work.
O'Connor is one of 10 composers-in-residence during the festival, including such returning luminaries as Michael Daugherty, Jennifer Higdon, Aaron Jay Kernis and Kevin Puts.
They will be joined by first-timers at the festival Mason Bates, Kenneth Fuchs, Dave Heath and Daniel Kellogg, all of whom will bear witness to their own premieres or otherwise recent works. (Kellogg participated in a Cabrillo young composers project a few seasons back.) Daugherty, auteur of the now well-known American Icons series of concert works and operas, will attend the West Coast premieres of Raise the Roof and Ghost Ranch, the former a "miniature timpani concerto" composed in 2003 to inaugurate a new auditorium in Detroit, —and the latter a tribute to Georgia O'Keeffe's New Mexico hideaway, which world-premiered early last year when performed by Alsop and her Bournemouth Symphony.
In a phone conversation, Daugherty explains, "I like abstract music, but my music has a realistic outline to it, and inside the outline it's abstract. It appeals to me more than abstract-only." He adds, "Georgia O'Keeffe is like that," referring to her Above the Clouds, the inspiration for a movement from his Ghost Ranch played by four horns, strings and percussion.
A frequent Cabrillo composer-in-residence, Daugherty is a man with a mission. "Everything I do has a definite American flavor, with allusions to American music," he says, and, "I let down my shield and write music representative of who I am and my past."
He has been heard to complain about how difficult composing the next piece can be. "It's always hard to come up with something new, something fresh, original, to give each piece its unique way," adding that he starts with a concept "and the title first." Daugherty has just completed Deus ex Machina—"train music"—which will be premiered in Charlotte, a kind of "young person's guide" to the orchestra.
World premieres at this year's festival are abundant, including three of the four works on opening night, July 30, not least of which is Jennifer Higdon's Soprano Sax Concerto with soloist Timothy McAllister. That program begins with Stomp by celebrated Scottish composer (and past Cabrillo resident) James MacMillan, about which London's Financial Times wrote, "Imagine Mozart and Tchaikovsky in kilts, thrown into the middle of a highland fling."
Other West Coast premieres include John Corigliano's homage to Bob Dylan, Mr. Tambourine Man, featuring soprano Amy Burton, Philip Glass' Symphony no. 8 and Kernis' Valentines, featuring soprano Susan Narucki. That work appears on the festival finale at Mission San Juan Bautista, Aug. 12, along with the world premiere of the festival-commissioned Symphony no. 4 by Kevin Puts.
The up-and-coming Daniel Kellogg gets his chance to shine at the free Family Concert matinee, Aug. 5, in the West Coast premiere of his Pyramus and Thisbe, featuring actor Joseph Ribeiro recounting the old Ovid tale. Kellogg lately began a three-year composer residency with the South Dakota Symphony and another with the Green Bay Symphony, and is writing an oratorio on the Book of Daniel for Soli Deo Gloria to be premiered by them and the San Diego Symphony next season.
Not for the first time, of course, grumbles are predictable from the old guard still dedicated to the festival's original goal of featuring West Coast and Pacific Rim composers.
Cabrillo Festival of Contemporary Music runs July 30–Aug. 12 at the Civic Auditorium, 307 Church St., Santa Cruz, and other venues. Tickets are $26–39.
AUG. 3
'Colorful World,' with works by James MacMillan, David Heath, Jennifer Higdon and Mark O'Connor; 8pm at the Civic.
AUG. 4 'Raise the Roof,' with works by Michael Daugherty and John Corigliano; 8pm at the Civic.
AUG. 4 Cabrillo Music Art & Wine Festival; 11am–8pm in front of the Civic. Also Aug. 5.
AUG. 5 'Behind the Notes, an Evening with Marin Alsop and Composers/Performers,' featuring O'Connor, Kevin Puts, Heath and Mason Bates; 8pm at the Civic.
AUG. 5 Free Family Concert' 1pm at the Civic.
AUG. 9 'Music in the Mountains,' a fundraiser with Susan Narucki. Tickets are $103. Kennolyn in Soquel.
AUG. 11 'Concentric Paths,' with works by Dates, Thomas Adès and Philip Glass; 8pm at the Civic.
AUG. 12 'Music at the Mission,' with works by Kenneth Fuchs, Aaron Jay Kernis and Puts; 4 and 8pm at Mission San Juan Bautista.
(Call 831.420.5260 or see www.cabrillomusic.org for schedule.)
Send a letter to the editor about this story.