August 1-7, 2007
home | metro silicon valley index | the arts | stage | review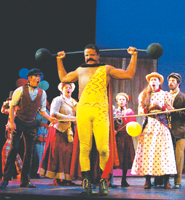 Photograph by Nancy Fitzgerald
Feats of strength: Foothill Music Theatre puts its cast to a weighty task in 'Carousel.'
Saving Songs
The indelible songs redeem the fitful plot in 'Carousel' at Foothill Music Theatre
By Marianne Messina
SOMETIMES the songs in a musical are so big, the story doesn't have to be likeable or probable for it to strike home, even after 60 years. Songs like "You'll Never Walk Alone" and "If I Loved You," have probably saved the Rodgers and Hammerstein musical Carousel from a dusty death. As for the story, well ... girl meets carnival barker, falls in instant love, defies the work-drudge world for this hunk of restlessness and sticks with him through thin and thinner.
Barker Billy (Carmichael Blankenship) doesn't seem to have two brain cells to rub together, making one bad move after another in a plot from the even darker Ferenc Molnár play Liliom (1909). Where Liliom remained unrepentant about his spousal abuse and attempted armed robbery, Carousel's Billy manages to eke out one redemptive good deed (yawn, and you'll miss it) after spending most of Act 2 in the afterworld exasperating the "Heavenly Friends." And yet that song, "If I Loved You," makes you want to care. In contrasting relief to grim Julie (Mary Melnick), her cheery blonde friend Carrie Pipperidge (Katie Blodgett), takes the traditional route to social responsibility, singing "When I Marry Mr. Snow."
Foothill Music Theatre's ebullient production teases out the subtler human yearnings awakened by the powerhouse songs. Director Jay Manley and a talented cast and crew spare no extravagance to capture the sense of community and shared ritual at the root of Carousel's appeal. In the opening, "Carousel Waltz," townsfolk and set pieces—ticket booth, dancing stage for "Ladies of Paree"—converge from every angle; each pole horse enters separately until they form a carousel hub, crowned with a grid work of colored lights, in a wheel of human activity. Billy and Julie sing their love song just after the excitement and set pieces give way to a twilight shore and sounds of the sea, setting the contrast between life in the fold and the alluring darkness beyond.
Both Melnick and Blodgett can sound the kind of high note that strikes directly at the tear ducts. Blankenship's Billy, sparing of smile, sings hardness and anger with ease, while the tender passages seem duly foreign to him. In "Soliloquy," this Billy has little time for amusement or self-aware winks—a propos of lyrics in which Julie's pregnancy turns out to be all about him. The advice within the pale is to just "walk on, walk on with hope" in the face of adversity, and so outsider Billy, with his need to have things right before he can "hold his head up high," is connected to extinction. "We're specks of nothing," Billy grumbles.
He plots a brutal heist while the townspeople come together for their clambake and celebrate, well, fertility, in the erotically charged "June Is Bustin' Out All Over." Energetic couples dances and contrapuntal ensemble action are just the beginning of Tyler Risk's unfettered choreography. In "Blow High, Blow Low," the seafaring men of this coastal New England town call and respond in clever rhythmical groups, clapping cups on tables, stomping the floor and clicking heels in athletic step dances.
Since the carousel is an ambiguous central figure of shadowy debauchery and splendid, well-lit confluence, one of the most beautiful numbers is, fittingly, a ballet pas de deux between Billy's now-teenage daughter, Louise (Sarah Blodgett), and the Carnival Boy (Gary Stanford). Audience note: Feel free to cheer any time between the artful lifts and when Stanford flips Blodgett's perfectly outstretched form over his back. In this lovely, foreboding dance, the callous, world-wise Carnival Boy appears to fit the gossamer Louise, with all her youthful promise, like a soul mate.
Carousel, a Foothill Music Theatre production, plays Thursday–Saturday at 8pm and Sunday at 2pm through Aug. 19 at Smithwick Theater, Foothill College, 12345 El Monte Road, Los Altos Hills. Tickets are $10–$24. (650.949.7414)
Send a letter to the editor about this story.