August 1-7, 2007
home | metro silicon valley index | silicon valley restaurants | feature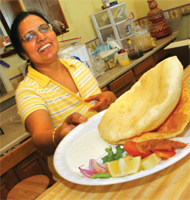 Photographs by Felipe Buitrago
Fast food the Bombay way: Sunite Sharma, owner of Chatpata Corner in Sunnyvale, serves up cholle bhatura.
Fast Food Notion
Silicon Valley's immigrant cultures are changing the very definition of fast food. And in the case of chaat, the Indian street food that's taken root in the South Bay, that's a good thing.
By Stett Holbrook
FAST FOOD isn't what it used to be in Silicon Valley. And that's a good thing. Burgers and fries still reign supreme, but immigration is redefining what we eat. Some of the most delicious fast food to take root in the South Bay is chaat, brightly flavored, multitextured snacks originally served by street vendors in northern India, and the strip of Sunnyvale and Santa Clara along El Camino Real as well as restaurants in Milpitas and Fremont offer the greatest concentration of chaat in the Bay Area.
America doesn't have much of a street food tradition. Hot dog stands, peripatetic tamale vendors, pretzel carts and the occasional paleta man jangling bells from his insulated popsicle cart are about all we've got, but developing countries are home to some of the best street foods. Vendors find low overhead employment in cities where they otherwise lack marketable skills, while customers get a cheap and fast meal on the go. That's the culture from which chaat developed. While chaat restaurants continue to open in Silicon Valley (there's now even a chain called Chaat Cafe), all are located in restaurant settings instead of street corners.
Chaat is meant to be eaten on the run, typically in the company of friends. It works as a quick lunch, but it's generally a snack between lunch and dinner.
"Indians are constant nibblers," says Vijay Bist, owner of Amber India in Mountain View and San Jose and Amber Cafe in Mountain View, a casual restaurant that serves a number of chaat dishes. That explains chaat's popularity in India and here, he says.
"Everyone eats it."
Aniket Daptari, a software engineer who now lives in Milpitas, grew up eating chaat in Bombay.
"The favorite pastime was go to the beach and have chaat," he said.
Although there's no beach nearby, he can still get his fill of chaat here.
"When you want to have something light and quick, that's when you go to have chaat," he says.
Chaat is as fast and cheap as any American fast food, but it's made without meat or deep-frying, so it has the added appeal of actually being good for you. But the real reason to seek it out is that it's flat-out delicious. Chaat has a small palate of flavors and ingredients to work from—crunchy, crispy, sour, sweet, spicy—but it's interesting to see how they are combined into different combinations. Most chaat is a blend of some kind of crispy starch (wheat flour, garbanzo bean flour) or soft dumplings made from lentil or garbanzo batter combined with potatoes, garbanzo beans and sometimes sprouted beans. Spicy and sweet sauces—typically a green mint and/or cilantro sauce and a tamarind and/or date sauce—as well as yogurt are the classic accompaniments.
There's an ephemeral quality to chaat, too. While a cheeseburger can sit wrapped up in a bag until you get home and still taste good, chaat must be eaten immediately. Crispy ingredients like bhel, puri and sev are added to the moist ingredients just before serving. Wait more than a few minutes and it becomes a soggy mess. But those few moments when the chaat is at its prime are as delicious as they are short-lived.
What dishes are classified as chaat and which are just small plates of Indian food can be hard to pin down. According to Pradnya, a software engineer from Bombay who now lives in Sunnyvale, all chaat is street food, but not all street food is chaat.
"A lot of what gets called chaat is technically not chaat," says Pradnya, who is co-moderator of the food and restaurant review boards on AnotherSubcontinent.com, an online community about all things Indian. For anonymity reasons, she only wanted her first name used.
For example in New Delhi, one of the chaat capitals of India, she says pani puri, a staple of every chaat eatery I've been to in Silicon Valley, isn't true chaat. The similar tasting gol gappa is the real thing, she says. Similarly, eastern Indians call their version of the dish puchka, a word that evokes the sensation of the dish bursting in your mouth—"pooshka!"
"There's always a regional bias," she says,
But that's not the case here. Chaat restaurants may specialize in chaat from Punjab or New Delhi, but they also serve a number of other items in order to appeal to the greatest number of customers. In India, chaat vendors will often just serve one kind of chaat, but that's not a good business model in the United States, so restaurants will sell bigger meals of tandoori, curries and various breads as well.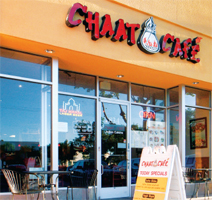 Chain of Chaat: Chaat has become popular enough to spawn several locations of Chaat Cafe, such as this one on Blossom Hill Road.
Chaat Which Is Not
Just as Indians may argue about what's chaat and what's not, there appears to be some debate about the origins of the term. "Chaat" means "to lick" in Hindu and one of the most popular explanations of the term stems from when chaat was served on banana leaves and appreciative customers would "lick" off their plates. While it's a good story, not everyone buys it.
There are a handful of chaat restaurants in San Francisco and the East Bay, but Silicon Valley is the chaat capital of the Bay Area. In the past two weeks I ate my weight in chaat. Here are highlights of some of the places I visited.
Lovely Sweets and Snacks is located in the heart of Sunnyvale's chaat row. The simple, sparsely decorated restaurant is dimly lit but the quality of the chaat lights the place up. Lovely specializes in Punjabi-style chaat and several stood out. Aloo tikki, a potato griddle cake topped with cholle, which is garbanzo beans bathed in a fiery, brick-red sauce topped with diced onions, cilantro, daikon radish and yogurt, would wake anyone up from the midafternoon doldrums. Another winner is the bhel puri. Bhel puri is available at every chaat joint I tried but it's particularly good here. Made from Rice Crispy-like puffs of rice, crushed wheat crackers, raw red onions, cubes of potatoes, cilantro and peanuts, and drizzled with a spicy sweet sauce, the dish is an explosion of flavors and contrasting textures. In addition to chaat, the restaurant has a display case packed with a wide variety of Indian sweets.
In spite of its hard-to-find minimall location, Chaat Paradise is one of the Silicon Valley's best-loved chaat restaurants. It serves chaat from all over northern India. The pani puri is one of the highlights here. Pani is the Hindu word for water and puri are hollow, puffed shells made from wheat flour. The shells are typically filled with chunks of boiled potato and garbanzo beans and topped with a spicy masala sauce and sweet tamarind chutney, then dunked in the "water," a spicy, sour, salty mixture concocted from various herbs and spices. In India, pani puri is made by vendors while you watch, but here the puffed shells, black garbanzo beans, sprouted mung beans and potatoes are served deconstructed. You add the sweet and spicy sauces to your liking before dunking the package into the spicy "water." The result is a blast of flavors and textures, a true sensual experience.
While many chaat dishes are spicy, those that feature the word "dahi," Hindu for yogurt, are wonderfully cooling. At Chaat Paradise, try the dahi bateta sev poori—small, delicately spiced chunks of potatoes layered with crunchy puri crackers and topped with thin but creamy yogurt and a great, red chutney and sev, a fried vermicelli like noodle made from garbanzo bean flour.
A few blocks away, Bhavika's Chatpat is a tiny, sparkling clean restaurant that specializes in the cuisine of Gujarat in western India. Chatpat refers not to chaat but to a vegetarian burger made from a potato patty. But it's the chaat that really stood out for me. Gujarati food is known to be a bit sweeter than food from other parts of India and that came through in the delicious khasta kachori. This intriguing dish is made from Graham cracker-like pieces of puri that had been dusted with masala, a currylike blend of spices that had a touch of sweetness. The crackers are topped with small, black garbanzos and ladled with sweet tamarind chutney, a spicy mint and cilantro sauce and a garlic sauce. Eat this one right away because it quickly goes limp.
Also good is the alu (an alternative spelling for aloo) tikki. The potato cakes are flecked with cumin and bits of jalapeños and draped under a trio of sauces that are at once spicy, sweet and cooling. The bhel puri, served in a towering molded shape instead of the typical amorphous jumble, is impressive, too.
The pani puri at ChatpatTa Corner in Fremont was the highlight of my chaat crawl. Over the course of my research, several people mentioned this place and I'm glad I saved it for last. Other dishes like the mixed chaat and chur mur were quite good, but it's easy to see why people come from throughout the Bay Area for the pani puri.
Chatpatta Corner is located in a stall at the back of Dana Bazar, an Indian grocery store and video rental shop. For me, pani puri is the ultimate chaat experience because it best expresses the explosion of flavors and textures that make chaat such a mouth thrill.
When you order the pani puri at Chatpatta Corner, you grab a Styrofoam bowl and walk around the counter to stand next to the friendly chaat maker. She asks how spicy and how sweet you want your pani puri and then in a few deft moves punches a hole in the top of the puri with her thumb, fills the puri with potatoes and garbanzo beans, drizzles the appropriate amount of chutney and masala on top, dips the whole fragile package into the pani and gently places it in the bowl in your outstretched hands.
If the pani puri were any bigger, it wouldn't fit in your mouth. As it is, you have to forget any sense of decorum as you plunge the little flavor bomb into your mouth and let it explode, being careful not to dribble. The experience begins with a crunch as you bite into the papery, shatteringly crisp shell. At once your mouth is flooded with the spicy, salty tang of the pani. Then come the neutral flavors and soft chew of the potatoes and garbanzo beans and the juxtaposition of the pleasing sting of the masala. That's followed by the sweet, cooling wash of the tamarind chutney. Your mouth experiences an exciting range of flavors and textures in just a few seconds.
The vendor watches as your eyes tip back in your skull as you revel in the electric charge of pleasure before she hands you another one so you can do it all over again. There are five pani puri to an order and by the time you've swallowed your first one, the woman is poised to dip the next one into the water and hand it to you. And so it goes, one after the other, until you say stop. If you're like me, that's hard to do.
Glossary
Chaat is made from a surprisingly small number of ingredients, and once you learn the names of the some of the basics, it makes deciphering menus that don't provide descriptions easier.
Aloo: Potato.
Aloo tikki: Potato cakes.
Bhalle: Fritter or cake made from lentil or garbanzo batter. Often soaked in yogurt.
Bhatura: Soft, puffed bread. Typically served with cholle.
Cholle: Spiced garbanzos. Sometimes called channa.
Dahi: Yogurt.
Pani puri (sometimes spelled poori): Puffed wheat cracker served as a whole shell or broken into thicker pieces.
Pav: Dinner roll-like bread.
Puri: Spiced water used for dipping chaat.
Sev: Fried vermicelli-like noodle made from garbanzo bean flour.
Vada: Lentil dumpling similar to bhalle.
Where to Find Chaat
Bhaviak's Chatpat 1053 El Camino Real, Sunnyvale. 11am-9pm Tue-Sun. 408.551.0917.
Chaat Cafe Various locations including 834 Blossom Hill Road, San Jose. 11:30am-9:30pm Sun-Thu and 11am-10pm Fri-Sat. 408.225.2233.
Chaat House 936 El Camino Real, Sunnyvale. 11:30am-9:30pm daily. 408.733.9000.
Chaat Paradise 165 El Camino Real, Mountain View. 11:30am-9:30pm daily. 650.965.1111.
Chatpatta Corner 5113 Mowry Ave., Fremont. 510.742.0555. 11am-8pm Thu-Sun (located inside Dana Bazar). A second sit-down location is at 3471 Ardenwood Blvd., Fremont. Noon-8pm Tue-Sun. 650.505.0400.
Lovely Sweets and Snacks 932 E El Camino Real, Sunnyvale. 10am-10pm daily. 408.245.6512.
Real Ice Cream 3077 El Camino Real, Santa Clara. 11:30am-9pm Tue-Sun. 408.984.6601.
Send a letter to the editor about this story.