August 1-7, 2007
home | metro silicon valley index | music & nightlife | review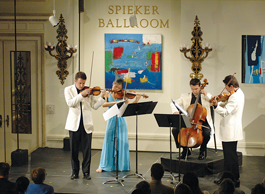 Photograph by Tristan Cook
Youthful exuberance: The Escher String Quartet excelled in its performance of Mendelssohn's Quartet in A Minor, written when the composer was only 18.
Menlo Marvel
The Escher String Quartet sets the tone with a magnificent Mendelssohn for [email protected]'s opener
By Scott MacClelland
THE STARRING act in the adventuresome opening program of this year's [email protected] festival turned out to be the Escher String Quartet. Last Monday night (July 23) at St. Mark's Church in Palo Alto, the members of Escher made such fine work of Mendelssohn's youthful Quartet in A Minor, op. 13, that everything else on the bill of fare—a program titled "Homage"—paled by comparison. One hardly needs reminding of the teenage masterpieces by Mendelssohn, the amazing Midsummer Night's Dream Overture and the astonishing Octet for Strings.
But the Quartet in A Minor, written at the advanced age of 18, reinvented the form even as Beethoven, the reigning god of the string quartet, was still warm in the grave and Schubert was frantically knocking off masterpieces, one after another, before death would take him a year later.
The Escher String Quartet's performance burnished Mendelssohn's intelligent designs with subtly expressive nuance. If confidence and élan replaced adolescent eagerness, it only served to underscore the work's excellence. Here was the classical style of Beethoven bracingly captured, packed with contrapuntal mastery and unleashed with authority. And Mendelssohn saved the best for last, a startling turn in the final movement that featured a concertolike violin cadenza, a haunting reiteration of the chorale that opened the work and even more concentrated distillations of Beethoven's op. 132 quartet.
The "Homage" program opened when violinists Joseph Swensen and Ian Swensen, together for the first time apparently, cracked all the jokes in Alfred Schnittke's Moz-Art, a cleverly canonic play on "Anything you can do, I can do better" drawn from some comedic fragments by Wolfgang Amadeus catalogued as K. 416d. Audience guffaws accompanied the vaudeville gags, such as whistling (by Ian) and scordatura tuning on the fly (by Joey, as he was known in his prodigious youth).
Ravel might not have approved the wind quintet arrangement by hornist Mason Jones of four movements from his Le tombeau de Couperin. (Ravel, after all, was one of 20th-century music's great "arrangers.") But as reductions go, it sustains all the principal woodwind lines and supplies no small charm along the way. Missing from the composer's well-known orchestral version was the popular Forlane, but Jones did include the Fugue from the original piano score. Polished playing came from such eminences as flutist Carol Wincenc, oboist William Bennett, clarinetist Carey Bell, bassoonist Dennis Godburn and hornist William VerMeulen.
Tchaikovsky's Piano Trio in A Minor is one of the most exasperating pieces the great man ever allowed to survive. By its end, after 50 minutes, the promise of its truly inspired opening theme has soured like milk left out. Long after the opening Pezzo elegiaco has begun to digest itself, Tchaikovsky then jumps into a set of fluffy variations on a naive folklike theme, attaining a high point in a mazurka, but finally goes over the top with a funeral march and adds a finish that literally begs the original opening theme to weep. However, as with all Tchaikovsky, the work can be rescued and even dignified depending on its executants. Alas, violinist Joseph Swensen, cellist Ralph Kirschbaum and pianist Wu Han, for all their blustering through the its passions, succeeded more in showing up its flaws than defending its honor. The sum of their efforts left a "half empty" answer to the question, does the piece deserve to be lost and lamented more than performed and endured?
[email protected] continues with nightly programs and daily master classes through Aug. 10 at Menlo School. St. Mark's Episcopal Church and Menlo Park Presbyterian Church. Tickets are $10–$68. Call 650.331.0202 or see www.musicatmenlo.org for schedule details.
Send a letter to the editor about this story.