August 1-7, 2007
home | metro silicon valley index | music & nightlife | preview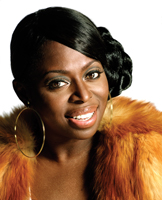 But is she jazz?: R&B singer Angie Stone headlines the San Jose Jazz Festival.
What Is Hip?
Pondering the mysterious nature of jazz with San Jose Jazz's Geoff Roach
By Damon Orion
WANT to stump a jazz expert? Ask him to explain what jazz is. Chances are, he'll start talking about things like improvisation, swing and syncopation, but when you offer examples of music that possesses all of those qualities without qualifying as jazz, he'll be forced to admit that one of the idiom's key ingredients is a little thing called je ne sais quoi. While this ambiguity may be part of the music's magic, it's also the source of much conflict, causing one generation of aficionados after the next to quibble over what does and doesn't constitute "true" jazz.
Like the rest of us, San Jose Jazz executive director Geoff Roach is at a loss for an authoritative definition of jazz. "It's like [Justice Potter Stewart's] quote about pornography: 'I don't know what it is, but I know it when I see it,'" he laughs. Though he might have a hard time defining it, Roach is a man who truly lives and breathes the J word. A sax player whose band Octobop went to No. 4 on the national jazz charts with their Very Early album in March of this year, the 53-year-old New Orleans native grew up around musicians like clarinetist Pete Fountain, trumpet virtuoso Al Hirt and legendary singer/trumpeter Louis Prima, as well as future members of funk and soul groups like the Meters and the Neville Brothers. He claims to have begun playing music professionally while still in high school, thanks to the permissiveness of nightclubs that he "shouldn't have been in." ("But it sort of didn't matter back then, because everybody took care of everybody else," he notes.)
One of the things that stand out in Roach's memory from those formative years is the absence of boundaries that he observed in the New Orleans music scene. "The guys who were playing Dixieland one night might be playing funk the next night, might be playing some bebop the next night," he recalls. "You had black and white working together, lots of different cultures, and it didn't matter about your class and that kind of thing."
A Kind of Blues
As he reminisces about his early days as a musician, Roach spontaneously stumbles on the memory of the first sax solo he ever copied from a record: "I Got a Woman," from 1958's Ray Charles at Newport. The soloist was one David "Fathead" Newman, who just so happens to be one of the headliners at the 2007 Comcast San Jose Jazz Festival, presented by Southwest Airlines. Taking place Aug. 10–12, the event also includes such luminaries as guitarist Lee Ritenour, R&B vocalist Angie Stone, sax player/bassist Gerald Albright, Latin jazz king Pete Escovedo and Red Holloway's United Alto Summit, featuring Holloway, Frank Morgan, Charles McPherson and Greg Osby.
Newman's set, a tribute to Ray Charles, won't be the first Jazz Festival concert to elicit pangs of nostalgia in Roach: Last year's festival, the first under Roach's direction, featured his New Orleans brethren Dr. John and the aforementioned Neville Brothers—a fact that apparently didn't sit well with the Mercury News' Richard Scheinin, whose May 20, 2007, article "San Jose Jazz Festival: Where is the jazz?" not only reprimanded Roach for booking these not-entirely jazzy acts at the 2006 festival but further upbraided Roach for incorporating R&B, smooth jazz and fusion players into this year's roster rather than sticking with a more traditional jazz format.
"Quite frankly, I think that article was not only inappropriate but actually wrong," Roach states, adding out that two of the festival's nine stages and half to three-quarters of the acts on the main stage are dedicated strictly to conventional jazz. "It's the kind of festival where if all you wanted was traditional, straight-ahead jazz, you still couldn't listen to everything you wanted," he says. "So I have no clue why that article came out and said what it did."
The Jazz Festival director comments that by making such categorizations, we find ourselves face-to-face with that age-old koan: What is and isn't jazz? If you argue that Latin music isn't jazz, he points out, then you disqualify much of the music of Dizzy Gillespie, Stan Getz, James Moody, Gerry Mulligan and Charlie Parker. "How do you say that's either jazz or not jazz?" he asks. "That just doesn't make any sense.
"If you talk to any jazz musician in the world," he continues, "they'll tell you that the first thing they have to learn to play is the blues. If you say, 'Oh, gee, blues really isn't jazz,' then you invalidate every jazz musician that's ever played, because a third of the jazz tunes ever written, in fact, are blues tunes. I know that because I'm a player."
If you question the soundness of Roach's assertion, consider the earliest known record of the word jazz used in reference to music, which comes to us from the July 11, 1915, issue of the Chicago Daily Tribune:
"Blues Is Jazz and Jazz Is Blues ... The blues are never written into music, but are interpolated by the piano player or other players. They aren't new. They are just reborn into popularity. They started in the south half a century ago and are the interpolations of darkies originally. The trade name for them is 'jazz.'"
Clearly revved-up about the subject he's begun to explore, Roach points out that every new form of jazz music has had its detractors. "Back at the end of the '40s and early '50s," he says, "when guys like Charlie Parker, Dizzy Gillespie and Miles Davis started to play this new kind of music called bebop, a lot of the jazz critics came out and said that it was awful, that it was the end of the world. Louis Armstrong called it Chinese music. They all thought it was the vilest thing they'd ever heard. Bebop has [since] been incorporated into every jazz player's language, and quite frankly, it defines what a lot of people play."
He adds that purists were similarly appalled by John Coltrane and Miles Davis' modal jazz in the early '60s. "Now everybody plays and listens to it," he says. "[Davis'] Kind of Blue is the biggest-selling jazz album ever."
Here, one is reminded of the words of Duke Ellington, whose swing music came under fire in the 1930s for being "too orchestrated" to be real jazz: "It's all music."
The Shape of Jazz to Come
Representatives from the old and new schools should each find plenty to enjoy at this year's Jazz Festival, which offers performances by well over 100 bands and 1,000 musicians. "If you're listening to the music, and you [decide], 'You know, I don't like this,' you can walk in almost any direction and find something you like in five minutes," Roach says. "For four or five dollars a day, you're not going to get this kind of experience anywhere on the planet."
While the director is loath to mention certain "bands not to miss" at the expense of others, some of the acts that come up in conversation are Red Holloway's United Alto Summit, the Latin All Stars, blues harmonica master Charlie Musselwhite and up-and-comers such as Connie Evingson and Kathleen Grace.
Roach also opines that in terms of musicianship and quality of music, the Washington, D.C., Air Force jazz group Airmen of Note is probably better than the Count Basie Band. "They're graduates of some of the top music schools in the country," he explains, "and all they do—their tour of duty in the Air Force—is to rehearse and play."
Musical surprises aside, participants will notice some changes in the structure, programming and outreach of this year's event: In the interest of minimizing waste, all cups, plates and utensils will be biodegradable and compostable, and in contrast to years past, evenings at this year's festival promise to be every bit as jumping as the daytime festivities. Local bars, restaurants and hotels will be offering special deals to encourage people to enjoy the event by night.
"A lot of people who may have come to previous festivals really think of it as just a Saturday–Sunday festival," Roach says. "We've actually changed the layout of the festival to bring the bigger act on Friday night, [Grammy-nominated R&B vocalist] Angie Stone. There's gonna be nonstop music from about 5 on Friday [through] Sunday afternoon."
Concertgoers can also expect a more visually oriented festival than in years past: Attendees will be encouraged to take pictures and videos for display around the festival and on the web, and Pacific Arts Collective will be creating live art such as graffiti walls.
"When people come to a concert in this day and age, they don't expect just a bunch of people standing up there playing," Roach comments. "Audiences evolve, musicians evolve, music evolves, so bringing in new elements and trying new things is what's required. People who get stuck in one definition or one time frame, quite frankly, are missing out on a lot of fun. I think that's one of the strengths of this festival: It really is jazz without boundaries."
For more information about the 18th Annual Comcast San Jose Jazz Festival, go to www.sanjosejazz.org/festival.html or call 408.288.7557.
Send a letter to the editor about this story.