August 1-7, 2007
home | metro silicon valley index | columns | silicon veggie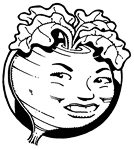 Silicon Veggie
The Santana Row Vegan Challenge
By Elisa Camahort
RECENTLY a Silicon Veggie reader emailed me to say that they went to a movie at Santana Row and felt like there weren't any vegan options to be found. I have mentioned my fondness for Santana Row before, but it's true that switching from vegetarian to vegan did change the restaurant landscape for me. So it's time for another Santana Row restaurant sweep.
While I don't frequent two of my former haunts anymore because of their limited veganability, I notice many more that I continue to patronize. The truth is that there's no restaurant that's geared toward vegan patrons. But that doesn't mean you can't get a great vegan meal. In almost every case you're just going to have to ask them to treat you special!
The two that dropped off my list are Consuelo's and Thea. The former is a Mexican tapas place that I used to love and suggest often. But other than the guacamole, every single vegetarian dish there is cheese-laden. Deliciously so, I'll admit, but since I don't eat dairy there's no reason to tease myself by going there anymore. The problem with Thea is that they've mixed in yogurt, even into dishes that aren't always prepared that way. Not only can I no longer eat their special flaming cheese appetizer, but I can't eat their hummus or pita bread either!
Luckily, one old favorite is still my favorite: Pizza Antica. Whether it's the warm Brussels sprouts salad (made without egg and bacon of course) or the cheeseless pizza that's already on their menu, I can always build a great meal.
Other restaurants that have become vegan stand-bys include restaurants that are very responsive to special requests:
At Pasta Pomodoro they're happy to sauté their "verdure" roasted vegetables in olive oil instead of butter, and serve them over wholewheat pasta.
At Yankee Pier they'll make their pasta primavera the same way. Oil, not butter? Not a problem.
Tanglewood's focus on local, seasonal offerings means they're pretty sensitive to alternate diets. They've even had soy cheese on hand.
The Counter is a new burger joint. A burger joint? Yup, one with a totally vegan burger.
Amber India's servers can readily answer all of your vegan questions and offer multiple suggestions.
Most restaurants are willing to accommodate you. And for most of them, it isn't much of a stretch. Maybe if we ask enough, there will be more items on the menu for us to choose. Until then, go off the menu and eat well!
Send a letter to the editor about this story.