August 2-8, 2006
home | metro silicon valley index | columns | silicon alleys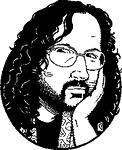 Silicon Alleys
Pointless Tech
By Gary Singh
IN CELEBRATION of next week's ZeroOne: A Global Festival of Art on the Edge, WORKS/San Jose is hosting an art show by former students from the CADRE Laboratory for New Media in SJSU's School of Art & Design. Since I didn't submit anything, I will now insist on recalling one of my experiences at CADRE in the mid-'90s.
Back then, CADRE was a hotbed of interdisciplinary creative collaboration. In the constrains of the academy, where everything is so freakin' compartmentalized, CADRE was a breath of fresh air. You had UNIX hackers, fine artists, philosophy majors and IT people all joining forces on various art projects. I had spent years studying music and was sick and tired of being limited to one academic discipline, so CADRE became my stomping ground.
During one graduate class in 1995, we were philosophizing about useless technology as a strategy for creative practice. It was then that I discovered the writings of a collective called the Critical Art Ensemble (CAE), a co-op of artists from different specializations committed to the intersections among art, technology, critical theory and radical politics. I read their essay, "The Technology of Uselessness," in which they discuss the utopian and dystopian narratives of social evolution in regard to technology: For the utopians, the goal is that technology should become a transparent backdrop that will liberate us from the forces of production, so that we might engage in free hedonistic pursuits. For the dystopians, technology represents an apparatus that is out of control and it is running blindly toward the destruction of humanity—i.e., the robots are going to take over.
CAE proposed a third narrative: "Could the end of technological progress be neither apocalypse nor utopia, but simply uselessness? Pure technology in this case would not be an active agent that benefits or hurts mankind: it could not be, as it has no function. Pure technology, as opposed to pure utility, is never turned on; it just sits, existing in and of itself. Unlike the machines of the utopians and dystopians, not only is it free of humanity, it is free of its own machine function—it serves no practical purpose for anyone or anything."
What they're talking about is that people go out and buy technology because they won't use it. For example, if a DVD recorder lets you tape shows up to a year in advance, you'll buy it instead of the one that only tapes shows six months in advance. You can purchase a food processor with a zillion different functions that nobody will ever use. And that's why people buy it. People have become so invested in seeing technology as a manifestation of value or anti-value, that they have failed to see that much of technology does absolutely nothing at all.
So, as a final project for that class, I decided to do something technologically useless. I did a concert with seven washing machines that I controlled with a computer. Using a 386 PC, I wrote a C program that banged the serial port, which in turn banged a relay box that turned the machines off and on. Using the computer keyboard, I "played" the machines. And I filled up the machines with different stuff, like bricks, BBs and whatnot, just to give them different sounds when they spun. And we put mics all over them. The entire project was the most useless effort I could imagine and it drew high praise from almost everyone in attendance. We even did the gig in Las Vegas a year later. To the explosive annoyance of my roommates at the time, I had to store the machines in our backyard for months in preparation.
But that was just my particular project that particular semester. Other folks at CADRE were doing all sorts of other projects, which is why it was always a great place to hang out. And the current exhibition at WORKS reflects that. It's not just a bunch of computers sitting in a room. There's a variety of weirdness involved. The opening reception was like a high school reunion for many folks.
So peruse the list of ZeroOne events and find something that floats your boat. You never know—you just might wind up in art school some day.
Contact Gary Singh or send a letter to the editor about this story.