August 2-8, 2006
home | metro silicon valley index | movies | current reviews | film review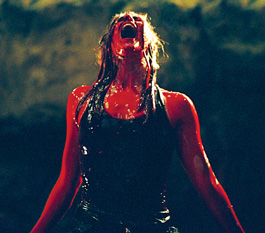 I Coulda Had a V8: Shauna Macdonald does her best Carrie imitation in 'The Descent.'
Caving In
Female spelunkers battle grumpy Gollums deep underground in 'The Descent'—a cut above 'Saw'
By Richard von Busack
THE FILM comes "from the studio that brought you Hostel and Saw," but the Lion's Gate release The Descent bears more emotional weight than those hits. The standard operating premise for modern horror films is that ultragraphic horror movies will be unwatchable unless we are sure that the victims ask for it.
Hostel, a very sick species of comedy, make everyone feel good because its victims are culturally insensitive boobs: "We're in Amsterdam. Shouldn't we go to a museum?" "Let's go to a hash museum." And Saw's Jigsaw, prosecutorial little runt that he is, always picks transgressors to torment.
Watching the Saw franchise—a grisly variation on the Ten Little Indians plot—is our age's version of reading Agatha Christie. Civilized viewers can permit themselves to gloat over murders, as long as they feel the victims deserve it because of some buried secret in their lives.
Director Neil Marshall's The Descent is a cut above the usual—a slight cut—because the six women who spelunk into a hell cavern don't really deserve what happens to them. The action opens with a severe automobile accident, just to get us in the proper spirit. Marshall follows through a year later with a meeting of twentysomething women who participate in extreme sports like white-water rafting, base jumping and rock climbing.
They stay at an Appalachian cabin the night before a morning of cave exploration. The women don't seem to notice that a metal skull decorates the outside walls of the cabin: a homemade charm against whatever lurks outside.
The short, muscular Juno (Natalie Jackson Mendoza) is the queen of the group, as befits her name. The women seem fit and experienced enough for anything, with the exception of the weary Scotswoman Sarah (Shauna Macdonald), who was deprived of her husband and her child in The Descent's first five minutes. She takes unspecified meds and is nursing unspoken resentments about the way her friends failed her emotionally during her time of sorrow. And she has been pressured into this cave exploration trip as therapy for her grief.
Rapidly, with neodocumentary cutting and overlapping dialogue, Marshall introduces us to the rest of the women. These scenes, essential as they are, probably should have been handed to a female director; the dialogue is stiff, punctuated with forced laughter. And only three of the women really stand out. Beside Juno and Sarah, Holly catches our attention. She is played with burning arrogance by Nora-Jane Noone of The Magdalene Sisters, here with cropped dyed hair and an Irish slum accent. She is a needler, anxious to get the show on the road. Holly has cause to regret her haste. Deep in the dripping caves, the party is ambushed by what Marshall calls "crawlers," and what longer-memoried moviegoers could call "chuds," carnivorous humanoid underground dwellers. The beasts, pale hissing Gollums with glottal voices, stalk the women as they lose their way.
The Descent exhibits some dark poetry. David Julyan's soundtrack goes romantic instead of horror-movie staccato. The spelunkers illuminate the inside of the caverns with the mercury-colored light from burning flares. The ruddy darkness, suffused with stirred-up dust, is like tinted sequences in a grainy silent film.
Toward the end, a character scrambles on all fours through a diagonal passage lined with centuries' worth of bones, like a hiker kicking aside scree. But The Descent can be light on logic. Supposedly, the crawlers have an excellent sense of smell, but they seem to be outwitted by a woman playing possum. The combat scenes are incoherent, digitally pasted together in editing that suggests that the fight choreography wasn't what it should have been. I realize there's a practical purpose for keeping things unseen, so we don't get a look at the monster makeup too early. But between the cutting, the half-done introduction of the characters and the dim lightning, it makes it hard to tell who you're rooting for.
Marshall has good ideas, though he doesn't necessarily follow through on them all. When a spelunker is lured into a tunnel by false daylight, the moment should have been stretched for tension. And the explanation for how the glowing phenomena happened is blurted out so fast that it's easy to miss. (This false-daylight scene is haunting, because it sounds like something that kills cavers in real life.)
An early scene, with two of the party wedged face to face in a half-collapsed crawl space, is so horribly claustrophobic that it should have been saved for the end. This grueling sequence is nearly a classic, nearly deserving of the kind of advance praise The Descent has picked up at film festivals.
If Marshall is more effective and humorless than a full-blown master of horror, he does bring an element of pity to the characters' ordeal. And he's made an impressive discovery, by the lights of most modern horror films: You can raise the stakes in a fright movie simply by making the characters seem essentially innocent.

The Descent (R; 99 min.), directed and written by Neil Marshall, photographed by Sam McCurdy and starring Shauna Macdonald and Nora-Jane Noone, opens Aug. 4.
Send a letter to the editor about this story.