August 2-8, 2006
home | metro silicon valley index | silicon valley restaurants | review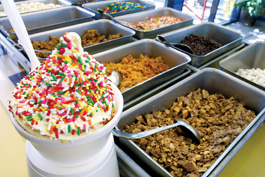 Photograph by Felipe Buitrago
Custard's Last Stand: It's still tasty and textured at Willow Glen Frozen Yogurt Co.
Scream And Scream Again
Ice cream is a great way to beat the heat, and around here there's no shortage
By Stett Holbrook
OTHER than strapping yourself to an iceberg, eating ice cream is one of the best ways to combat the merciless heat that has been beating down on Silicon Valley and the nation at large. (You were right, Al Gore! Please forgive us!)
In search of relief from that burning ball of fire in the sky, I visited three of Silicon Valley's top ice cream shops. If I was going to suffer, I wanted to make sure I did so with the good stuff in hand.
Willow Glen's venerable Willow Glen Frozen Yogurt Co. is a small but mighty shop that specializes in all things frozen and creamy. The frozen yogurt is particularly rich and good given that's it made with low-fat yogurt. The mango tango I tried tasted a bit like sherbet and was just as refreshing. WGFYC also sells Treat Ice Cream, a beloved San Jose-based ice cream company. For me, vanilla is the litmus test for good ice cream; if it's not good than I'm dubious about other flavors. Treat's vanilla is dependably thick and dense. You have to be careful not to break off your plastic spoon as you dig in. The ice cream has a faint yet pleasantly icy, chalky edge that becomes supremely rich and chewy in the mouth. I like my vanilla flavor in the foreground and flecked with vanilla beans, but Treat's version is rather subtle.
For me the real attraction of Willow Glen Frozen Yogurt Co. isn't the ice cream or the frozen yogurt, but the frozen silk custard. This egg-rich dessert is an East Coast and Midwest specialty that's hard to come by this side of the Mississippi River. The shop only sells vanilla and chocolate. Vanilla is available every day and chocolate on the weekends. I didn't try the chocolate, but I'm sold on the vanilla. The stuff is dispensed from a soft serve machine that extrudes a curling ribbon of custard into a cup. Take it from me, a small is all you'll need.
The frozen custard is indeed silky. Part of the pleasure of eating it is rolling it on your tongue and enjoying the uncommonly rich, luxurious texture. As an added bonus, the silk custard had the surprising ability to withstand the withering heat inside my colleague's car as we drove back to the office. That's helpful because there's limited seating inside (read three chairs) and a few tables outside.
A few blocks away is Yagoz Gelato, a shop that specializes in gelato made on the premises. There are plenty of ice cream shops that sell gelato, but those that make their own are unique. Perhaps it was the heat, but I found Yagoz's gelato softer and less dense than I would like. For me, the best gelato has an elasticity and stretches as you dig in and pull your spoon away.
The flavors at Yagoz (the shop makes 62 different ones), however, are great. One of the best I tried was lemon gelato, a refreshing, intensely lemony concoction. Roasted almond and cappuccino are also winners. On my visit Yagoz was featuring a number of liquor-enhanced gelatos that were quite good, too. Tiramisu, Jamaican chocolate rum and zabaglione (wine custard) all packed a boozy punch.
In Los Gatos, Dolce Spazio Dessert Cafe has long been one of Silicon Valley's premier gelato shops. The gelato is made at their factory in Campbell and it's fantastic. The shop in downtown Los Gatos serves about a dozen flavors that change on a regular basis. I sampled the espresso—dense and creamy espresso gelato with ground espresso beans—and the vanilla. The espresso was good, but the vanilla stole the show. As chewy as taffy, the gelato is speckled with vanilla and as thick and creamy as it gets.
But what's with those tiny gelato spoons? The diminutive utensils make the stuff last longer but in this heat gelato melts quickly and I need a faster way to eat it. So if you see a guy with his face in his cup, you'll know it's me.
---
Willow Glen Frozen Yogurt Co. 1098 Lincoln Ave., San Jose. Open 11am-10pm Sun-Thu and 11am-11pm Fri-Sat. 408.292.5961. Yagoz Gelato 1111-5 Meridian Ave., San Jose. Open 10am-10pm Mon-Thu and 10am-11pm Fri-Sun. 408.266.9246. Dolce Spazio Dessert Cafe 221 N. Santa Cruz Ave., Los Gatos. Open 7am-11pm Mon-Thu and 7am-11:30pm Fri-Sun. 408.395.1335.
Send a letter to the editor about this story.