August 2-8, 2006
home | metro silicon valley index | the arts | visual arts | festival preview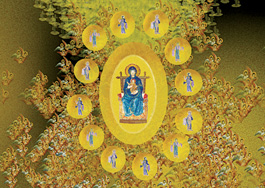 Far Afield: Tamiko Thiel's 'The Travels of Mariko Horo' uses gaming technology to create a mythical journey from East to West.
Taking Tech's Temp
'Edge Conditions' at San Jose Museum of Art surveys state of tech-driven art in time for ZeroOne
By Michael S. Gant
IN Arthur Penn's neonoir Night Moves, Gene Hackman's detective catches his wife cheating on him with an intellectual type at a foreign movie and grouses, "I saw [an Eric] Rohmer film once; it was kind of like watching paint dry." He meant exterior latex, but the jibe was directed at high-brow artifacts, from talky French cinema to the ultimate in drying paint: abstract art.
The line got a laugh, but I never bought it. I like Rohmer movies, and I like watching paint dry on museum walls. In that vein, I have resisted the hype about electronic art. The dance of the pixels can induce an optical agita, a weariness of the eyes, that can only be cured by spending time with a changeless surface, like, say, the remarkable semaphoric canvases of Gustavo Ramos Rivera, now on display through mid-September at the San Jose Museum of Art. At the same time, I am finding myself seduced by the intriguing samples of technology-driven art showing up for the ZeroOne Festival. The museum supplements the weeklong festivities with Part II of Edge Conditions, (Part I consists of two large installations, Listening Post and WorldProcessor, which are still up) in the upstairs gallery. The exhibit features pieces in a technological groove by about a dozen artists of both old- and new-school bent, guest-curated by ZeroOne's Steve Dietz.
Edge Conditions boasts some heavyweights in the field. Lynn Hershman Leeson, a Bay Area pioneer in new-media arts, jumped on board as soon as she first saw the possibilities of videodiscs in the 1970s. Her virtual politician named DiNA is a flat-screen talking-head bot who responds to visitors' questions by trolling the Internet for real-time answers (or at least she's supposed to; DiNA was glitching during the show's preview, not unlike some prominent politicians when faced with tough queries).
Oakland's Alan Rath is represented by Hangwave, a sculpture of electronic innards topped by a small cathode ray screen displaying a radioactive green human hand.that slowly turns forward and sideways in a kind of hieratic sign language.
SJSU professor Sam Richardson, who tackled new methods and materials in sculpture in the 1960s, is represented by a cool block of sleek acrylic and Plexiglas that looks like the tip of an iceberg rising from an Arctic sea. The piece takes on added resonance 30-plus years later in light of An Inconvenient Truth. This iceberg, fashioned from a resilient man-made material, will never melt—if only we could do the same for nature.
Best of all is Nam June Paik's 20th Century Man. Paik, who passed away this year, had a keen eye for the transient technology of telecommunications. 20th Century Man is a chunky robot assembled from wood-grained 1950s TV sets. The screens, powered by videodiscs, broadcast swirling mandalalike images. It is the perfect avatar for the technological revolution.
Among the works by the newer generation, I was drawn to Shirley Shor's Core, an illuminated sideways eye shape that runs through a limitless program of colored squares that grow and merge into larger patterns, like a self-generating abstract map. Takuji Kogo's A Song for the Silicon Valley holds special interest for locals. A large aerial view of downtown slowly pans from the central high-rises to nearby neighborhood residences and back, while odd bits of poetic reverie about dating flash on the screen (and can be listened to on headphones): the overall message boils down to "Is this cute or creepy?"—which tends to sum up most human encounters.
Complete with joystick, Tamiko Thiel's The Travels of Mariko Horo illustrates the voyages of a Japanese explorer (a mirror-image Marco Polo) in a mythical West. Projected on a whole wall of the gallery, this virtual reality "game" allows you to explore on your own, swooping through a Venetian cityscape full of brightly colored floating angels that combine Renaissance and Asian images in a swirl of allusive possibilities.
Edge Conditions shows through Nov. 26 at the San Jose Museum of Art, 110 S. First St., San Jose. (408.294.2787)
Send a letter to the editor about this story.