August 2-8, 2006
home | metro silicon valley index | music & nightlife | festival review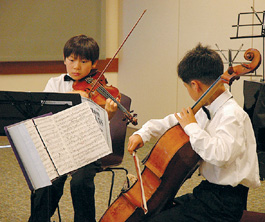 The Future Is Now: Some of [email protected]'s many student performers warm up for their concerts.
Power Couple
David Finkel and Wu Han drive [email protected] through a powerful and focused fourth year
By Scott MacClelland
HIGH INTENSITY is a tough act to follow. The first program of the fourth [email protected] Festival opened with Shostakovich's Cello Sonata in D Minor, of 1934, featuring festival music directors David Finkel and pianist Wu Han. In this, their first festival duo appearance, they set a standard of forceful concentration that demonstrated why they've been described as the "power couple" in American chamber music today.
Finkel is cellist with the Emerson Quartet, whose performances are of a similar focus and power, and his playing of the Shostakovich was as in-your-face as it is possible for a cellist to get. Even with Wu Han driving her Steinway flat out, Finkel held his own. The program note waxed eloquent about the sonata's romance, but the reading of this rarely heard multimovement opus covered the full range of the composer's art up to that point, missing only the tragic Mahlerian qualities that would follow in years to come. Declamation, soldiering tempos, a bristling Khatchaturian piano part and a joking steeplechase took their turns. A melancholy melody on the cello, picked up by the piano, haunted the piece just before its sizzling finale.
One of the composer's most popular and hair-raising pieces followed, with cellist Peter Wiley, in his festival debut, violinist Ani Kavafian and pianist Derek Han in the Piano Trio in E Minor,
Op. 67, of 1944. The work opens with a fugue subject on stratospherically high cello harmonics, which gave Wiley—a former member of the Beaux-Arts Trio, who lately joined the Guarneri Quartet—more than a little trouble. (While the evening was comfortably warm, the night before the same program had baked in the recent heat wave.) Shostakovian sorrow showed up, especially in the third movement largo, along with its concomitant irony in the riveting Jewish folk dance of the finale. But compared with the foregoing sonata, the force of the trio was muted.
The second half, all Mozart, opened with Wu Han and Derek Han in the four-hands Piano Sonata in C, K. 521. Derek Han followed Wu Han's assertive lead, making this rarity sound ever-fresh and as surprising as possible given its sheer quantity of repetition. In turn, three of Mozart's charming, little church sonatas would occupy about 10 minutes, with organist James Welch, violinists Kavafian and Tien-Hsin Wu and cellist Peter Wiley. In the last of the three, Welch played a flamboyant cadenza (by David Francis Urrows) that engaged ranks from the organs in both the sanctuary and the choir loft.
Finally, under Wu Han's force of artistic personality, the great Piano Quartet in G Minor, K. 478, brought the long program to a splendid finale. The opening of this piano concerto in disguise probably tricked some listeners into thinking Beethoven had made an unannounced appearance. Joining Wu Han in a powerful and highly focused performance were Kavafian, Wiley and violist CarlaMaria Rodrigues.
Before the concert began, Wu Han announced that some 39 student musicians, "from 8 to 28," were participating in this year's Chamber Music Institute. (The fruits of their labors will be presented on Aug 5 and 11.) Meanwhile, and for the next 10 days, no one can complain that [email protected] doesn't go in for the rare and exotic. Works of Britten, Stravinsky, Janácek, Messiaen, Saint-Saëns, Fauré and Tower will complement familiar fare by Schubert, Dvorák, Franck, Beethoven and Haydn.
[email protected] continues through Aug. 11 at the Menlo School in Atherton and St. Mark's Episcopal Church in Palo Alto. For ticket info and schedules, see www.musicatmenlo.org.
Send a letter to the editor about this story.