August 2-8, 2006
home | metro silicon valley index | movies | current reviews | film review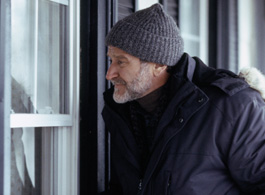 Photograph by Anne Joyce/Courtesy Miramax Films
Patch Adams, Peeping Tom: Robin Williams is actually not that creepy in the film adaptation of Armistead Maupin's 'The Night Listener'—it just looks that way.
Blue Robin
Robin Williams is the sanest person in 'The Night Listener'—how weird is that?
By Richard von Busack
THELMA RITTER, snorting at a young girl's tale of woe, in All About Eve: "Whatta performance—everything but the bloodhounds snapping at her rear end." Ritter's warning, a signal to Bette Davis that Anne Baxter isn't on the up and up, is advice that writers especially must heed. They are required to have shrewd judgment of their own motives. Yet the solitary nature of their work makes them more than unusually susceptible to sob stories, especially the flattering kind. That's the point of The Night Listener, but it's such a fine point that it's not clear whether anyone who isn't a writer will benefit from it.
The film has currency, thanks to the real-life story of fraudulent author JT Leroy. And this adaptation of an Armistead Maupin novel also delivers moderate thrills; the decision to sell it as a suspense film was its best option. Suspense must be the film's aim, what with a pop-up about one startled character that is so bad-taste audacious it belongs on The Simpsons.
Exposing the undertaker's soul dwelling in every comedian, Robin Williams plays Gabriel Noone, a depressed Ira Glass-like radio commentator in New York. Noone has temporarily run out of "the shiny stuff"—the autobiographical stories he can turn into lore for his radio audience. Noone's longtime lover, the main character in so many of his broadcasts, has just left him. At this moment of crisis, Gabriel receives a manuscript from a listener, Pete (Rory Culkin). It's a well-written memoir of ritual sexual abuse that left the boy with full-blown AIDS. Gabriel responds with phone calls, letters and the Playboy magazines that Peter is too young to buy. Peter and the boy's guardian, Donna (Toni Collette, being Cloris Leachman again), plan to meet for Christmas. When Christmas comes, and there's no sign of the boy, Gabriel decides to track his correspondent to a dismal town in Wisconsin.
Williams' acting is unusually fine, with the right balance of the grave and the comic. When was the last time Williams played the sanest person in a film? He is particularly shrewd in an outing with his cantankerous Southern father (John Cullum); it is a moment of authentic informality, unpunched up by shtick. But was this actor truly the right person to play Noone? (Who can really do a Joseph Cotten part these days, beside William H. Macy?) Williams' humanity, his menschiness, keeps us from believing that he's really guilty of exploiting people in the name of art, and without that guilt, the treatment he gets from Pete and Donna doesn't have any resonance outside this very specific situation.
Patrick Stettner's last film, The Business of Strangers, was also about the blurring of identity. The Night Listener isn't as coiled. Despite the New York cityscapes, The Night Listener seems small-scale. Stettner does that TV-movie trick of unveiling only one piece of information per scene, and the editing is so leisurely it's almost dead. Aside from pacing problems, The Night Listener never gets either really nightmarish or really deep. The movie is less about an elaborate complex deception than one writer's moment of doubt.

The Night Listener (R; 82 min.), directed by Patrick Stettner, written by Armistead Maupin, Terry Anderson and Stettner, photographed by Lisa Rinzler and starring Robin Williams, Toni Collette, John Cullum and Rory Culkin, opens Aug. 4.
Send a letter to the editor about this story.