August 2-8, 2006
home | metro silicon valley index | music & nightlife | preview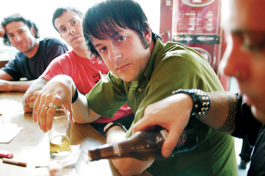 Photograph by Brynot
Maybe It's Maybelline: NUFAN could never go the My Chemical Romance route.
Band Conversion
Tony Sly has no use for an alibi when solid records will do
By Todd Inoue
NO USE FOR a Name singer and songwriter Tony Sly still keeps a 408-numbered cell phone charged and tucked in his pocket. That's refreshing for a guy whose band rose from Cupertino to flirt with the alternative charts ("Soulmate") before consistently touring the world and making eight shred-worthy punk platters for Fat Wreck Chords.
San Jose doesn't offer 24-hour entertainment or more than four live-music venues, but Sly digs the South Bay anyway, keeping a home in Cambrian after spending five years in Roseville. The band—Sly, drummer Rory Koff, guitarist Dave Nassie and bassist Matt Riddle—took the summer off, and the Aug. 9 Blank Club show is more of a fact-finding mission for Sly to see how downtown's live music scene has changed from the days NUFAN would play the Cactus Club.
"Since I've moved back to San Jose, I haven't been going out," Sly admits from said cell phone. "I think I went to Branham Lounge once. I find myself doing different things now. My daughter's going to Montessori pre-preschool; I find myself volunteering to pick up the groceries and helping out in the class. It's just something I do. I'm not really doing anything else."
This year marks NUFAN's 15th year as a Warped Tour favorite. After absorbing some defections, the current lineup has been together since 1999. With rock at an insipid level of wuss where bands work more on their haircuts and eye shadow than their music, Sly isn't hoping to convert the My Chemical Romance crowd. Most new listeners, he says, come from established fans who have grown along with the band and now have kids. NUFAN operates on the general principle of not following trends.
"You can't try to stay relevant," Sly says. "Should we change our music? Try to get a new style? We're not really cut out to all of a sudden come up to with a new style unless it's innovative. We don't want to do what the younger bands are doing. It makes me feel that this is more of a passing phase. It reminds me a lot of the late '80s and Poison and Winger—more in touch with image than music."
His philosophy has worked so far. The band enjoys an international following, touring 200 days across the United States, Europe, Canada, Australia and Japan two years ago. Of all the countries, the United States was the softest market; it'd be easier to convince Bill O'Reilly to stump for Hillary Rodham Clinton than to get Americans to elevate NUFAN to Green Day or AFI status. Sly isn't complaining. Whereas other less-talented groups have to deal with their private jet engine problems and the threat of being dethroned in six months, No Use is comfortable with its lot. Koff lives in Truckee. Nassie teaches guitar in Southern California to earn some bucks on the side. Sly lives off the band and enjoys Mr. Mom duties in Cambrian when he isn't on tour.
"Financially, we're comfortable," Sly says. "We don't need to be filthy rich off of music. That's not what it's about. We're satisfied where we are. Artistically, we still think we can do better, but there's no way a band like ours is going to sell 20 million."
Maturity could be felt on the band's 2005 record, Keep Them Confused. Sly fiddles with the tempos and vocal harmonies (he sings a lot more than he shouts these days) and broaches topics like religion. "Bullets" came out of a church flier that appeared on Sly's doorstep around the time The Passion of the Christ was a hot topic. He began to process the experience and reflected on how one-sided religions can be.
"I thought the reaction would totally be 'I'm not listening to you any more' or 'My mom told me I can't listen to you any more.' Nobody has come up to me and said that. Our biggest fan base is in Europe, Canada, Japan and Australia. Because those countries are less conservative, they don't care."
Still, Sly is used to the harangue that welcomes a new album. It means he's doing his job.
"Everybody's reaction is to go with the cool thing to say," he says. "We're songwriters, we're musicians, we pride ourselves on that. We don't know which album is the best. We're not trying to impress people, we just want to impress ourselves."
No Use for a Name, the Sore Thumbs and Whisky Sunday play Wednesday, Aug. 9, at the Blank Club (44 S. Almaden Ave, San Jose). Tickets are $10 and available through Ticketweb. (408.29BLANK)
Send a letter to the editor about this story.