August 2-8, 2006
home | metro silicon valley index | columns | silicon veggie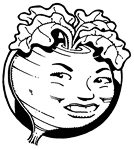 Silicon Veggie
Los Little Guys
By Elisa Camahort
I'D LIKE to take a moment to praise the independent, local Mexican restaurant. There's a time and a place for Taco Bell and Chevy's, but does anyone else find it startling that in San Jose, a city with a large Latino population and a historical legacy of Latino influence, chain restaurants often comes out on top in Annual "best of" surveys published by local publications? I find that strange every single year.
I'd like to remind you to stop in and visit your local Mexican restaurants. Recently I (and a group of 20) descended upon one of my local options, Casa Lupe in Campbell. Twenty people, but no wait for our table, friendly—even proactive and anticipatory—service, a constant flow of large, tasty margaritas, many bowls of delicious homemade guacamole. A good time was had by all.
Let me just tell you about my burrito.
The vegetarian burrito is the vegetarian's mainstay at any Mexican restaurant. The offerings can run from the small and dry variety to the large, sloppy, "wet" variety. I am a fan of the latter. And I met my match when Casa Lupe's burrito showed up at my table.
I was one of the first to get served, and it made many at my table fear for their gastronomical lives when they saw the awesome size and scale of my burrito. Reclining in a pool of tangy verde sauce, the burrito (resembling, really, a culinary brick of gold) was topped with sour cream and guacamole and stuffed with all of the basics. Not too spicy, but not bland, the burrito was stuffed to the gills. As a vegetarian I much prefer to see whole beans in my burrito to any of the "refried"-looking variety. A restaurant may swear to you their refried beans aren't made in lard, but trust, as I've written before, can be an issue. Give me plump, whole, cooked beans, like the ones at Casa Lupe.
Mostly I liked the way they handled our large group of loud, festive people. They treated us the way any restaurant with loud, festive decorations on their wall should: like we were right at home, and they were happy to have us.
As I said at the beginning, I'm a regular patron of various Mexican restaurant chains in the area, too. But if you drive by a little, local taqueria in your neighborhood every single day and wonder how they stay in business, I recommend you stop in and find out!

Casa Lupe 2169 Winchester Blvd, Campbell. 408.378.1277.
Send a letter to the editor about this story.