08.06.08
home | metro silicon valley index | columns | silicon alleys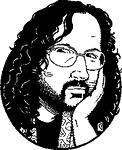 Silicon Alleys
The Last Orchard
By Gary Singh
THE URBAN BLIGHT exploration junkie is currently on sabbatical documenting a recent bender that you will see shortly, so until then he has appointed his cousin, the industrial wasteland explorer, to humbly provide a substitute travelogue. Like Ponce de León searching for the Fountain of Youth, the explorer began his pursuit by examining the slew of abandoned office complexes intermittently dotting the landscape around Brokaw Avenue, Bering Drive, the southern end of Zanker Road and other nearby thoroughfares. The initial journey down Brokaw took him past two different cornerstones at two different intersections, each proclaiming entry to the San Jose Orchard Business Park. It doesn't matter how much of San Jose no longer looks like an orchard. The history shall live on in business parks and hardware stores. Yeah!
But wait! Right darn close to those intersections, the explorer rediscovered two of his favorite industrial streets in all of San Jose: Rogers Avenue and Junction Avenue, both highlighted by numerous granite, marble and tile outlets, enough to warrant their own district. The big-box electronics behemoth of the area is, of course, Fry's, and since the explorer arrived soon after opening time, the cavernous place was nearly vacant—polar opposite from the way it normally is. Being inside Fry's Electronics when it's empty is an entirely different experience. You can actually find what you want by asking just one employee instead of six.
Anyway, for those who insist on visiting the district by car, the explorer offers the following suggestion: When you leave the parking lot of Fry's Electronics, go south on Junction toward the freeway and follow the industrial esplanade to where it makes a right turn and ends at Rogers. Then turn right again and slowly navigate the rest of the way back up to Brokaw. You will immediately become enlightened and agree that aside from hosting a picture-postcard stretch of dead railroad tracks, the entire area boasts more slabs of granite, marble and tile than anywhere else in San Jose. It's pure kitchen remodeling glee. Sandwiched in-between it all, he rediscovered an avocado warehouse and a golf course supply place, more than cementing San Jose's reputation as a hotbed of diversity.
From there, the explorer made his way around and over to the southern end of Zanker Road, where it crashed into 101. He then segued by some industrial warehouses, some of which were notorious rehearsal spaces and party spots for rock bands back in the '80s. Since the Fountain of Youth was nowhere to be found at such a locale, the would-be Ponce de León made a U-turn, then forged his way back up Zanker past more seemingly empty business campuses and onto Bering Drive, before finally bringing the expedition to an end.
And the denouement wound up being one that provided an uncharacteristically pristine experience for the industrial wasteland explorer, that is, something in fact quite noticeable: a newly redeveloped four-building 167,000-square-foot office complex at 1828 Bering Drive—the AMB TriPoint Business Park, now completely LEED Certified and green with a capital "G." They took a wasted run-down business R&D campus and rebuilt the whole shooting match entirely to green specs, all the way down to the wood, the tiles and the lighting. It's a killer project.
In fact, the industrial wasteland explorer arrived just in time for the press conference, which was equally slick and pristine. San Jose mayor Chuck Reed espoused how the project fits in with the city's Green Vision goal of creating and/or retrofitting 50 million square feet of building space. Rick Row, director of Sustainable Silicon Valley, cited among other things the business concept of "change before you have to," and yakked about the innovative project's many features that aren't even required by code yet, but that the builders incorporated anyway. Wow. What a finish. The industrial wasteland explorer must now leave because he's just green with envy after seeing that place. It looked that good.
Contact Gary Singh or send a letter to the editor about this story.