08.06.08
home | metro silicon valley index | movies | current reviews | dvd review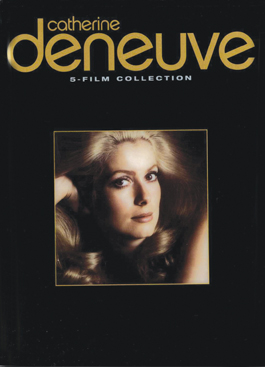 Catherine Deneuve 5-Film Collection
Three discs; Lionsgate; $39.98
By Michael S. Gant
With her blindingly blonde hair, flawless skin and masklike demeanor, French star Catherine Deneuve made a perfect object of obscure motivation for Buñuel's Belle de Jour, about a doctor's wife who turns to brothel kink for kicks. None of the five films in this new collection match that 1967 classic, but director Jean Aurel's Manon 70 (1968) trades on the same frustrating fascination with impenetrable beauty—every man wants to breach that facade. Deneuve plays an amoral woman who lets her brother (Jean-Claude Brialy) casually sell her services as eye candy to rich men. When a young reporter, François (Sami Frey), falls hard for Manon, he keeps insisting on love over sheer lust. His possessiveness turns to petulance, and the pair spend the movie alternatively breaking up and bedding down. This is some kind of French male fantasy, because when Manon's not around, François gets to sleep with the equally gorgeous Elsa Martinelli, as some sort of sensational consolation prize. The film deflates at the end, but does feature some marvelous swinging-'60s fashions. André Techine's Hotel des Ameriques (1981) offers a more serious and modulated look at love. A depressed anesthesiologist, Hélène (Deneuve), struggling with the death of her lover, accidentally meets Gilles (Patrick Dewaere), a mopey guy who lives with family in a run-down resort hotel. The mere act of opening up to another person helps Hélène heal, but Gilles slowly descends into self-pity, unable to accept the good fortune of this unexpected affair. Hélène knows she must surrender the past, but Gilles insists on keeping the wound open: "If you forget him, it means that one day you would forget me." With her hair tinged a more modest brunette, Deneuve gives a rich, subtle performance; this was one of the last films for Dewaere, a hypersensitive type in the Montgomery Clift mold, who hit fame with Gerard Depardieu in Going Places and committed suicide when he was 35. Le Choc (1982) pairs Deneuve with her match (if fading a bit) in onscreen beauty: Alain Delon. He plays a high-end hit man on the run; she plays a turkey farmer (with unmussed makeup). It's negligible but inoffensive. The same cannot be said for Le Sauvage (1975), a deplorable comedy about a reclusive perfume genius (Yves Montand) whose jungle island is invaded by a braying bimbo (Deneuve). Substituting volume for wit, the film assaults the senses and wastes two legendary talents. The fifth film really belongs in a Depardieu set. In For Saganne, a 1984 epic, he plays a French soldier in the Sahara, circa World War I. There's plenty of interesting subtext about France's mixed feelings over the legacy of colonialism in this Gallic Lawrence of Arabia, but damn little Deneuve. She appears in a few scenes and then disappears as quickly as a sand dune in the rain. No extras.
Click Here to Talk About Movies at Metro's New Blog
Send a letter to the editor about this story.