08.06.08
home | metro silicon valley index | movies | current reviews | dvd review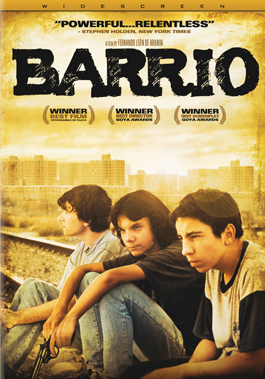 Barrio
One disc Lionsgate; $14.98
By Richard von Busack
This 1998 neorealist drama set in Madrid contrasts the tourists' vision of sunny Spain with the life inside the concrete towers ringing the city. It's August, and whoever can afford it has headed to the beaches. Three sex-obsessed 15-year-olds are left behind to gaze at the travel posters in a tourist window. The good-looking Rai (Crispulo Cabezas) drifts slowly into crime—this drift, unnoticed at first by his two best friends, is perhaps the most subtle trick director Fernando Léon de Aranoa achieves. Meanwhile, Manu (Eloi Yebra) picks up an exercise-in-futility job as a pizza-delivery boy without a moped; he takes the pies on bus after bus and then ends up eating them after the customers reject them: "I don't know what they're complaining about. It tastes better cold." Meanwhile, Javi (Timy Benito) watches his violently feuding family fall apart. Barrio is often a darkly funny film about an aimless summer, with a Buñuel-like subplot about a useless jet ski that symbolizes the dashed hopes of the trio. The actors have fine rapport with one another, but there seems to be a macho, conservative slant to Barrio. The overstimulation of television is what drives these kids to trouble, as if the director blames the media instead of the economy that lead to this deprivation. And the female characters are peripheral. They're either hotties or worn bitter moms.
Click Here to Talk About Movies at Metro's New Blog
Send a letter to the editor about this story.