08.06.08
home | metro silicon valley index | movies | current reviews | dvd review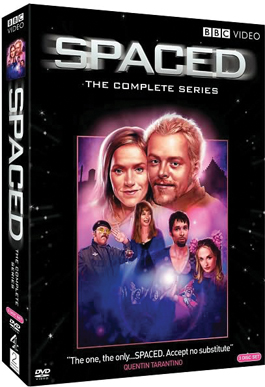 Spaced: The Complete Series
Two discs; BBC Video; $59.99
By Jessica Fromm
In theory, a situation comedy about twentysomethings coasting through life smoking too much pot and getting into wacky situations sounds like every other Friends wannabe of the late '90s. But in the hands of comedians Simon Pegg, Jessica Hynes and director Edger Wright, Spaced was one of the most hilariously innovative television comedies out of the United Kingdom in years. Spaced has gained a cult following, though it only ran for two seasons on Britain's Channel 4, from 1999 to 2001. After years of pleading from fans, the complete series has finally been released on DVD in the United States. A character-driven series from the duo that went on to make Shaun of the Dead and Hot Fuzz, Spaced focused on the adventures of Tim Bisley (Pegg) and Daisy Steiner (Hynes), two pseudo-professionals with delusions of grandeur, trapped in a state of perpetual adolescence. Meeting randomly and finding themselves in need of an apartment, they decide to pose as a married couple in order to share the rent on a London flat. Geeky but arrogant Tim is a man-child of the Apatow persuasion, his dreams of becoming a comic-book artist put on hold by his own self-loathing. Unmotivated and painfully unsmooth, Daisy harbors fantasies of being a journalist, but can't seem to actually write anything. Wonderfully fleshed-out side characters are one of the biggest comedic highlights of the series, like their perpetually pissed and cringingly sexual landlord Marsha (Julia Deakin), Tim's camo-clad ammo-obsessed best friend Mike (a green Nick Frost) and their unstable downstairs neighbor Brian (Mark Heap), a tortured artist. Though some of the series' Phantom Menace jokes come off as a bit dated, the majority of the Wright-Pegg signature pop-culture references are still topical and laugh-out-loud funny. With their recent cinematic successes, Wright and Pegg were openly aghast when Fox announced last year that they were in the preliminary stages of making an Americanized version of Spaced, a la The Office. Thankfully, that idea seems to have been canned. The extras include extensive commentary by the cast and crew and friends like South Park's Matt Stone, directors Kevin Smith and Quentin Tarantino, comic Patton Oswald and Juno's Diablo Cody.
Click Here to Talk About Movies at Metro's New Blog
Send a letter to the editor about this story.