08.06.08
home | metro silicon valley index | movies | current reviews | film review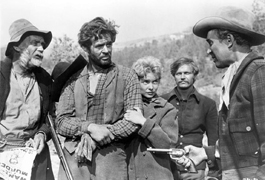 BEYOND GOOD AND EVIL: Jimmy Stewart (far right) is a bounty hunter looking for Robert Ryan (second from left) and his moll (Janet Leigh) in the morally ambiguous Western 'The Naked Spur.'
The Gray Knight
Jimmy Stewart's bounty hunter walks a shadow line in 'The Naked Spur'
By Richard von Busack
SOME PEOPLE call The Dark Knight "fascist" (a reductive word, used in reductive reviews). Real fascists don't doubt their rightness, nor do they halfway kill themselves trying to save their enemies' lives so they can live to stand trial. The argument goes on, but a 1953 Western being revived at the Stanford Theatre shows that The Dark Knight isn't the first film to mull over the tragedy of the man hunter. The Naked Spur (Aug. 7–8) features James Stewart during his very best period as an actor. They used to talk about Western movie characters being "black hat" or "white hat," meaning evil or good. Stewart wore the same gray, soot-stained hat in several mid-1950s Westerns, and this gorgeous 1953 Anthony Mann picture is likely the best of them.The Naked Spur takes place after the Civil War. This is an easily read euphemism in every aspect of this movie for World War II. One commentator, Lawrence Alloway, notes that Mann's camera searches this Colorado landscape like a soldier would, assessing the terrain "as a foxhole or vantage point, as an ambush for us or them." Stewart's Howard Kemp has been rootless, landless and loveless ever since he came back from the fighting. Now in the high country near Durango, Kemp is bounty hunting an escaped shooter called Vandergroat (Robert Ryan), whom he proposes to take back to Kansas dead or alive. Problem is, the killer is a nice guy on some levels. He's maybe a victim of circumstances. This ambiguous situation gets more complex: Lina (Janet Leigh), Vandergroat's traveling companion, is an underage lady who seems to be halfway between adopted daughter and mistress. Needing an extra hand on guard duty, Kemp ropes in a broke prospector, Jesse (Millard Mitchell, from Singin' in the Rain). Jesse is the film's everyman, tugged between compassion and a desperate need for a handful of silver. Along the way back to the land of the law, Kemp picks up another rider: a no-good ex-soldier called Roy Anderson, cashiered for rape. Ralph Meeker, a hooligan's hooligan, rasps out a genuine World War II dogface's excuse for being kicked out: "The Army never did understand me."
No one is really on the square in this movie, certainly not Stewart; he wins the moral center by default over Ryan, with his too-bright, too-wide grin. "Too bright" and "too wide" are the words for the blue skies here; the starkness recommends The Naked Spur to those who love film noir and hate Westerns. The film has few rivals for its visual landscape as moral metaphor: maybe only The Treasure of Sierra Madre. Bronislau Kaper's soundtrack brings out the exotic strain in the tale, with a hint of Theremin and a little gamelan in a sequence of rain cascading on tin plates. The gruff Mann rides herd on a variety of acting styles and makes them harmonize. Stewart's high-intensity performance is one of the greats of the studio era and ends with him in moral triumph and near-physical collapse.

THE NAKED SPUR screens at 7:30pm with BROKEN ARROW at 5:45 and 9:15pm, Aug. 7–8 at the Stanford Theatre in Palo Alto.
Click Here to Talk About Movies at Metro's New Blog
Send a letter to the editor about this story.