08.06.08
home | metro silicon valley index | music & nightlife | band review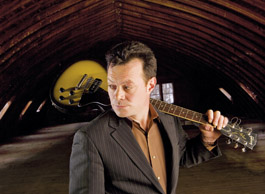 Photograph by Cathy Bauer
Attic Smasher: James Hunter is going to find that mouse, and when he does, it's going to pay.
Soul Man
British crooner James Hunter performs at this year's San Jose Jazz Festival
By Garrett Wheeler
IF YOU happened to be wandering the streets of downtown London 20 years ago, there's a good chance your attention turned, at least momentarily, to a certain street-corner crooner by the name of James Hunter. Pausing briefly, you would have inevitably taken notice of Hunter's voice, an impressive combination of throwback soul, modern grit and an air of originality hardly seen in any venue, let alone a cobblestone alley. It was this voice that captured the ear of Steve Erdman, an American tourist who would eventually start a record label with his partner, Kimberly Guise, for the sole purpose of promoting and releasing Hunter's first album, People Gonna Talk.
"Steve was traveling around London, looking for the cool places—I guess he wasn't there to see Buckingham Palace," says Hunter. "So we talked and became friends, and eventually he said, 'I've got to get you started.'
I told him, 'Don't let me stop you.'" This year's 19th Annual San Jose Jazz Festival features Hunter amid a supersized lineup of over 80 bands, including headliners Big Bad Voodoo Daddy, Manhattan Transfer and David Sanborn.
Hunter, a man who relinquished blue-collar labor for the infallibly honorable profession of sidewalk busking, long ago came to terms with the often less-than-glamorous requirements of the working musician, though he'll tell you with pride that he's "never had to work an office job or any sort of nine to five" in his life.
The native of Colchester, Essex, grew up listening to the early rock & roll records of the '50s and '60s, putting his first band together to play a show at the Colchester Labour Club.
In 1984, Hunter's first original single, "Evil Eye," found its way onto a scarcely circulated rockabilly compilation, and later in the decade he released a trio of albums under the name Howlin' Wilf & the Vee-Jays. In the early '90s, Van Morrison made a stop at one of Hunter's gigs on a fan's recommendation, and quickly hired him as a backup singer. For several years, Hunter toured and recorded with Morrison, an experience Hunter refers to as "quite a giggle."
But by 2003, Hunter was 41 years old and still without a record label, so when Steve Erdman approached him with a contract in 2003, Hunter's decision to sign was immediate, and lucrative. By 2006, People Gonna Talk had found popularity among fans and critics, earning a Grammy nomination the same year. In June, Hunter released The Hard Way, which climbed promptly to the top of the U.S. Billboard Blues Chart, spending six weeks at No. 1.
Asked what accounted for the success, Hunter replies, "I think for the first time in my life my management and record company has put the time and money into it to really break through." Humble enough? "I'm just a bloke from Colchester," Hunter laughs, "I never get too big a head."
Listening to The Hard Way, it's no secret that Hunter's influences lie with the American soul singers of the early '60s, though there's also an element of stark inventiveness present in his songs. From the Philly-soul-inspired title track to the funkified standout, "Don't Do Me No Favours," The Hard Way moves and grooves the way rock & roll's greatest forefathers intended it to. In his usual modesty, Hunter denies most of the responsibility.
"I've always followed between Ray Charles, Jackie Wilson and Sam Cooke, and concocted that into something vaguely original—it's difficult to be explicit without admitting who I ripped off," Hunter says. Of course, there is one area of Hunter's music that even he won't dismiss as imitative: "The only place where I've got any claim is with my lyrics," says Hunter, "I don't owe those to anyone."
Voodoo Child
In keeping with its tradition of high-caliber lineups (past acts have included Dr. John, Arturo Sandoval and Roy Hargrove) this year's Jazz Fest will feature an almost absurdly immense amount of talent, from heavy hitters like John Densmore and George Brooks to lesser-known but equally brilliant up-and-comers like soul singer Anthony David and R&B diva Jennifer Johns.
But few bands playing the festival can rival the fan favorite swing revival act, Big Bad Voodoo Daddy. The L.A.-based seven-piece first surfaced on the local lounge circuit before hitting the mainstream in the late '90s alongside fellow big-band throwbacks the Squirrel Nut Zippers. On the heels of the 1996 cult comedy Swingers, which featured two of the band's singles, "You & Me & the Bottle Makes Three Tonight" and "Go Daddy-O," on its soundtrack, BBVD's success came swiftly and suddenly. Within months of the Swingers appearance, the group signed to Capitol Records, selling over 3 million albums before settling down to record a follow up LP, Americana Deluxe. In a word, Big Bad Voodoo Daddy appeared invincible.
By the end of the '90s, that invincibility had dwindled into a realization that music trends are, like any other fad or fashion, fleeting and susceptible to demise.
"At the time, we were riding high on a platinum record," says drummer Kurt Sodergren of their debut album, Big Bad Voodoo Daddy. "But younger music lovers are fickle, and people tend to move on after a year or so—there's a lot of new music out there. But in this day and age selling records isn't a great way to make a living anyway, and for us, it's all about the live show."
If there was any speculation that after the bubble burst for the swing revivalists, BBVD simply hung up their guitars and opened a record shop, that assumption quickly vanished as the new millennium began. In fact, the Voodoos did quite the opposite: they went bigger. Their five-piece band turned into a seven-, then a twelve-piece. They began experimenting with string sections and bigger venues. In short, Big Bad Voodoo Daddy is in its biggest and baddest phase yet."We're into being as flexible as possible, playing anything from small clubs to big arts centers and opera houses," Sodergren says. "Four years ago we started playing with symphonies at performing arts centers, which has been really cool. [Swing music] appeals to so many different people; we try to play for all the different audiences. We really have three generations of fans, from grandparents to their kids and their kids."
As a tribute to perhaps the oldest generation of the three, Big Bad Voodoo Daddy is currently working on a record featuring the songs of big band great Cab Calloway, due out early next year. Jazz Fest–goers can expect to hear a handful of new Calloway covers, Sodergren says, plus all the old favorites. As for Big Bad Voodoo Daddy, Sodergren says the band always looks forward to a stint in a familiar city. "We used to play San Jose all the time back in '94 and '95. We're looking forward to coming back with a brand new show."
THE SAN JOSE JAZZ FESTIVAL happens on Friday–Sunday (Aug. 8–10) at various locations in downtown San Jose. Tickets are $10 one day general admission/$25 three days/children under 12 free. For detailed information, visit www.sanjosejazz.org/festival2008.
Send a letter to the editor about this story.