08.06.08
home | metro silicon valley index | columns | silicon veggie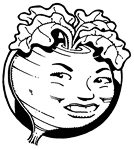 Silicon Veggie
The Lazy Vegan
By Elisa Camahort
I HAVEN'T been going crazy with the restaurant reviews lately. I've been traveling a lot and that tends to make me want to be a homebody when I'm in town. It does not, however, make me want to be a gourmet cook. So what's a lazy vegan to do? Count on some absolute staples, that's what. Herein find the five vegan necessities in my kitchen:
1. Nutritional yeast: It sounds nasty, but it is both tasty and incredibly healthy. You can find it in the bulk department at Whole Foods or health food stores and also in tins in the nutritional supplement area. Sprinkle some on just about anything you cook. It imparts a savory, nutty (some even think cheesy) flavor—plus lots of B vitamins.
2. Seitan: Seitan is wheat gluten. Yes, I know that also sounds nasty, but it is a wonderful and easy-to-prepare alternative to soy-based meat substitutes. Seitan has a chewy, substantial texture, and can basically be torn into pieces and simmered in whatever sauce you're working up. Seitan is most commonly used as a chicken substitute. Seitan is available in the same section as tofu, again at Whole Foods and health food stores.
3. Frozen garlic and herb cubes: Some of you have delightful little kitchen gardens where you grow fresh herbs. Some of you buy fresh herbs at the store and manage to use them before they dissolve into an unidentifiable mass in your veggie drawer. Some of you have even figured out how to easily clean a garlic press. Me? I go to the Trader Joe's frozen food section and pick up frozen cubes of minced garlic, basil, parsley and more. Pop 'em out into the pan and carry on. No fuss, no muss.
4. Spinach: I know, you're saying "no, duh" right now, but I am a late convert to tossing some spinach into everything I cook. Whether frozen spinach, or those prewashed fresh spinach leaves, spinach cooks up so quickly and easily, adds a nice bit of green to a meal and obviously delivers plenty of nutrition, particularly iron. Popeye had it right!
5. Edamame: Again, you can go frozen or fresh and this is also widely available. It packs a protein punch and adds more bright green color to your dish for visual interest. I have pretty much replaced green peas with edamame.
6. So, what are your veg*n kitchen staples?
Send a letter to the editor about this story.