August 8-15, 2007
home | metro silicon valley index | columns | silicon alleys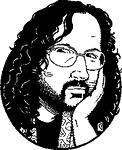 Silicon Alleys
The Other Campbell
By Gary Singh
THE WEBSITE for Campbell's main street says this: "In Historic Downtown Campbell you'll find tree-lined walkways with charming sidewalk cafes and coffeehouses, fabulous restaurants, wonderful shops, and stylish boutiques. Explore Downtown Campbell and discover our boutiques featuring the latest trends in clothing and jewelry."
That's a pretty damn good description, but that street is not the only Campbell Avenue in this valley. A much more rocking street is the Campbell Avenue in Santa Clara that takes you through the industrial backwater behind Santa Clara University. Sure, the Campbell Avenue in the city of Campbell may offer a "vibrant shopping and entertainment district featuring many historical landmarks and over 100 shops, services, and restaurants for you to explore and enjoy," but this other Campbell Avenue offers piles of lumber, granite, a commercial laundry warehouse, empty blocked-off office buildings and unmarked facades with barbed-wire fences.
To get there, all you have to do is circle up the Alameda, and right where it turns the curve around the university and becomes El Camino, you hang a right onto Campbell Ave. The first sign you see is the one that says "Not a Through Street," signaling that there are only good things to come. Dead-end streets are some of the best places to investigate, and this one is yet another quintessential mixture of old and new.
The escapade commences right there at Stephen Schott Stadium, the university's baseball diamond. From there, the stroll takes you past T. W. Smith Wholesale Plumbing Supplies, a spectacular and groovy place to check out hundreds of lengths of pipe for what seems miles on end. It's in the same building as Kitchen and Bath Showplace, a rocking spot to sniff out some fixtures, sinks, tubs and other bathroom accessories.
Then be sure not to miss Blue's Roofing, a great yard in which to scope out piles of lumber and granite. A. J. Commercial Laundry also sits right there, in an ominous-looking warehouse building. A sign on the front warns visitors to enter the yard at their own risk.
You continue down a street that 20 years ago was entirely an industrial wasteland, then, all of sudden, everything changes. Right along the eastern side of the street are nothing but rows and rows of—you guessed it—condos. What is it with these people that insist on building hideous cookie-cutter bile and olive green condos right smack in the middle of an awesome backwater alley that is not far from the railroad tracks? The new street that circles through the first set of these condos is called Dahlia Loop. Ugh.
On the western side of Campbell Avenue, one notices a few side streets that used to go off Campbell and through the nearby residential neighborhoods, but medians have been installed to prevent that, thus a few more dead-ends.
As Campbell begins to meander its way to its end, one finds more bile-colored bungalows and a few unmarked facades. Highlights in the final stretch include Alberto's Concrete and Landmark Sign Company. Then the road dead-ends at a grassy median at Newhall where it used to actually go through. This is why these adventures are better off on foot, because that way you can just step over the median and turn left down Newhall, where it dead-ends at the railroad tracks. But before you do that, you can quickly segue right on Elm Street and trip through one more block of desolate industrial wasteland before it dead-ends at Highway 880. In fact, this entire adventure was nothing but one dead-end after the next.
On your way back out of the neighborhood, make sure you pass by the sign at the Encanto condos at Dahlia Loop. The sign says this: "Thank you for visiting Encanto Bungalow Community. Established 2006. San Jose, California." I thank no one except the person in charge of creating the piles of lumber and granite. Now that was something worth visiting.
Contact Gary Singh or send a letter to the editor about this story.