August 8-14, 2007
home | metro silicon valley index | music & nightlife | profile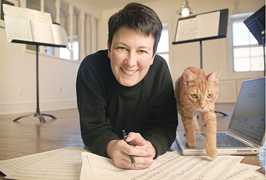 Fur from the madding crowd: When she's not bonding with her cat, Jennifer Higdon composes music, as heard in her Soprano Sax Concerto last Friday in Santa Cruz.
Fresh Ears
The first weekend of the Cabrillo Festival of Contemporary Music offered a spate of premieres
By Scott MacClelland
LONG ON entertainment but short on intellectual challenge, the opening two orchestral programs of the Cabrillo Festival of Contemporary Music in Santa Cruz found its world-class orchestra all a-sizzle in a spate of world-, U.S- and West Coast premieres. Marin Alsop, who from the podium worked the crowd no less effectively than her musicians, introduced a parade of composers, several with multiple previous festival appearances on their résumés.
Friday night, the Santa Cruz Civic Auditorium saw the now-familiar faces of Jennifer Higdon and Mark O'Connor, with Michael Daugherty dominant on Saturday. Present in spirit if not body were festival alumnae James MacMillan and John Corigliano. New to the family were composer David Heath, saxophonist Timothy McAllister, soprano Amy Burton.
Assuming skill of execution, it is easier to compose a crowd-pleaser than a deeply or personally expressive piece. Skillful programming suggests a balance of each, implicating the music director. Friday's program, titled Colourful World (using the British spelling after David Heath's piece), opened with MacMillan's Stomp (with Fate and Elvira), a short amusement with lots of brass that quoted the slow movement of Mozart's Piano Concerto no. 21 (used in Bo Widerberg's film Elvira Madigan) and the fate motif from Tchaikovsky's Fourth Symphony while dancing a Scottish reel.
Heath's work (a world premiere) served up six postcards united around a Coplandish "lonely trumpet" theme and with Herbie Hancock allusions. Higdon's Soprano Sax Concerto, arranged from a recent oboe concerto, began and ended in a pastoral mood (a la Copland's Clarinet Concerto) and featured smooth, sweet and virtuosic playing by Timothy McAllister. At 25 minutes, O'Connor's five-movement Symphony no. 1 lasted a bit longer than the Heath and Higdon pieces and took the form of variations on O'Connor's own haunting Appalachia Waltz. Here was compelling evidence that O'Connor's mastery continues to mature, even as he departs from the many concertos he has written to show off his solo skills as a fiddler of all styles. But the prize for sustaining high craft and formal coherency goes to the five-minute MacMillan.
Daugherty's Raise the Roof gave its name to the second concert and wowed the audience with the virtuosic dazzle of timpanist Steve Hearn and its thrilling orchestral display. A medieval plainchant-sounding theme pervaded the work, even as it evolved into archetypal Latin beat and instrumentation plus an imaginative fugue that intensified the flavors. The composer's Ghost Ranch paid homage to particular paintings by Georgia O'Keeffe, in turn recalling desert-dried animal bones, clouds studding a blue New Mexico sky and the black hills where O'Keeffe camped out to capture some of her most memorable canvases. Horns supplied the "ghost" theme, starting with principal Kristin Jurkscheit. This was pictorial music, a latter-day Grand Canyon Suite, amply flattering the principal players, not least tubist Forrest Byram.
Corigliano's Mr. Tambourine Man sets seven Bob Dylan song-lyrics with all new, beautifully crafted, deeply felt music. Some of the verses—Masters of War, Blowin' in the Wind, Chimes of Freedom, Clothes Line—are eerily relevant today. All Along the Watchtower was all commedia dell'arte parody. Amy Burton sang the words like she owned them (mic'd so everyone could make them out), and Corigliano gets kudos for the score, whose treasury most wants to be heard again, and yet again.
The Cabrillo Festival of Contemporary Music continues Aug. 11 at 8pm at the Santa Cruz Civic and Aug. 12 at 4 and 8pm at Mission San Juan Bautista. (831.420.5260)
Send a letter to the editor about this story.