August 8-14, 2007
home | metro silicon valley index | silicon valley restaurants | review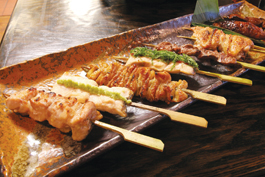 Photograph by Felipe Buitrago
Six reasons to stick around: Yakitori on the grill at Sumika
The Way Of Sumika
Samurai cool in Los Altos' Japanese cuisine
By Stett Holbrook
I'M about 750 pages into Shogun, James Clavell's epic novel about medieval Japan complete with sword-wielding samurai and rigid social structure. The book is feeding my newfound fascination with Japanese culture, particularly the rigorous pursuit of perfection that pervaded Japanese society from gardening to waging war.
In another book I'm reading called The Way of Aikido, a nonfiction work about a modern Japanese martial art, I read that Japanese warlords were unified under the Tokugawa Shogunate in 1603, a political structure that ushered in a 250-year period of relative peace. During this time, samurai who had formally dedicated themselves to mastery of the sword focused that same zealous intensity into the arts. The application of their martial spirit to artistic pursuits created Noh drama, haiku poetry and sumi brush painting.
What's all this have to do with food? I think the best Japanese restaurants in Silicon Valley are those that specialize in one facet of Japanese cuisine—ramen, sushi, kaiseki, izakaya—instead of a crowd-pleasing menu that offers a little bit of everything. To me it's the same samurai spirit of perfection and single-minded focus that pervades these restaurants. There is a growing number of these specialty restaurants here, and one of my favorites is Sumika in Los Altos.
Sumika is essentially a Japanese pub, but that doesn't quite do it justice. It's more elegant looking than that and yet is still a great place to drink beer and sake, the latter of which is represented on one of the more extensive lists I've seen in the Bay Area. The restaurant's somewhat hard-to-find location in a downtown Los Altos alley adds to its watering-hole appeal.
The specialty at Sumika is kushiyaki, small bites of grilled chicken, beef and vegetables cooked on bamboo skewers over charcoal. (By the way, kushiyaki means skewered grilling; yakitori means grilled chicken.) The restaurant imports Binchoutan charcoal from Japan and seasons its dishes with either a fine sea salt harvested from northern Japan or a meat-loving, soy-based sauce called tare.
The skewered meats are wonderfully simple and delicious. Tsukune (chicken meatballs seasoned with shiso leaves, $3.50) are juicy and rich and one of my favorites here. Also try the momo (grilled chicken thigh, $3). And though it may sound off-putting, the kawa (grilled chicken skin, $3) is crispy and good. But the wasabi-topped mune or chicken breast ($4) was too dry.
For a real treat, go for the grilled Kobe-style beef ($4.50), buttery slices of pampered beef brushed with a fruity plum sauce. The grilled asparagus ($3) wrapped in a translucent piece of black pork is a tiny dish, but packed with pleasure. It's also available with cherry tomatoes or enoki mushrooms.
As good as the skewered items are, there are few nongrilled dishes that really stand out. The Sumika salad ($9.50) was so good I ordered it twice in one visit. The towering salad is piled high with thinly sliced cabbage, mizuna, cherry tomatoes, shredded chicken and a light but creamy peanut dressing. And Col. Sanders has nothing on Sumika when it comes to fried chicken. The boneless chunks of meat ($7) are lightly breaded and as crispy and juicy as any I've had. A squeeze of lemon makes it even better.
Not as good, however, was the listless deep-fried and chilled Japanese eggplant ($5). The dish needed something—a snappy sauce, a piquant marinade—to lift it out of its slumber.
Service is pleasant and attentive but can slow down as the place gets busy. This restaurant is popular and gets crowded.
Until I can visit Japan, reading about the country and eating at restaurants like Sumika will have to do.
---
Sumika
Address: 236 Central Plaza, Los Altos.
Phone: 650.917.1822.
Hours: 11:30am– 2pm daily, 6–10pm Mon–Thu, 5:30– 11pm Fri, 5:30–10pm Sat and 5–9pm Sun.
Cuisine: Japanese.
Price Range: $2.50–$14.
Send a letter to the editor about this story.