August 8-14, 2007
home | metro silicon valley index | music & nightlife | profile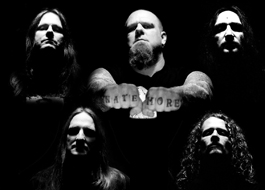 Photograph by Karyn Crisis
Fists of Fury: Exodus cranks out 'amazing slabs of metal.'
Mas Exodus
Heavier, faster, uglier, sicker— and now with more evil
By Gary Singh
NOWADAYS, it's hard to shock with rock. People are calling Metallica "classic rock," and Slayer will probably wind up as a question on Jeopardy pretty soon. I asked Exodus' guitarist Gary if their first album, Bonded by Blood, will be in a car commercial someday—he said they could use the cash.
"Hell, 'Deathamphetamine' from our last album was used in a K&N air filters commercial, so we're halfway there," says Holt. "But the next [album] is as sick and dark as anything done before, and we'll continue doing just that as long as I'm enjoying myself."
After all the ups and downs for the last 25 years, thrash metal pioneers Exodus continue to boil with seething darkness. Holt says the band is surely going through a new rebirth. "Look at our last two records," he said. "They are amazing slabs of metal, and when you hear the new one, you'll realize that very few bands are able to put out back-to-back to back releases with the fire and intensity of ours. The new album is a genre-defining moment for us and thrash in general, and we as a band feel more inspired and motivated than any time before."
Bold words, but spoken by a true originator. Back in the early-to-mid-'80s, along with bands like Metallica, Slayer and Megadeth, Exodus invented a brand new genre of faster, heavier, uglier metal now universally known as thrash. Exodus was fronted by a legendary raging madman named Paul Baloff, who sadly is no longer with us, but the rage absolutely lives on. During those days you honestly felt like you were right smack in the middle of some insane toxic music that was just beginning to brew, whatever it was, and the San Francisco Bay Area quickly became the undisputed world capital of thrash. Just about every twisted subgenre of metal throughout the last quarter-century can be traced back to that scene.
And the shows were severe. In Rick Ernst's new film, Get Thrashed: The Story of Thrash Metal," Holt summed up the entire scene perfectly.
"Everyone had a good time, even if they were bleeding," says Holt, adding that he himself had a good time if everyone was bleeding. And it's totally true—I distinctly remember getting 12 stitches above my eyebrow after someone accidentally backhanded me in the pit when Possessed played at the Scottish Rite Temple in Oakland in 1986. My mom was crying in the hospital as the doctor sewed it up, right as I was carrying on about how "fucking rad" I thought the show was.
It was a raging scene and the songs were faster-than-life sonic assaults about murder, rape, Satan, cannibalism, necrophilia, rotting flesh and other gorgeous material. People just wanted to play the speediest, heaviest, most evil stuff they could possibly come up with. In the early '80s, folks were barely even using the term "heavy metal" yet—it was all just "hard rock"—and when thrash came exploding out of the sewer to pollute the world, mainstream hard rock fans were initially scared to death. They didn't get it. They thought it was too close to hardcore punk, which it sort of was, but with fewer haircuts and more Marshall stacks.
Then Metallica broke worldwide and everything changed, for better or worse, depending on who you talk to. Nowadays you have every imaginable subcategory of metal, whether it's grindcore, black metal, death metal, nu metal or post-Norwegian whatever. But the original thrash days were rocking, violent, hideous and fun as all bloody hell. The bands and the fans all hung out and swilled drinks with each other. It was authentic with a capital "A."
"It's really hard to explain what it was like to people who weren't there," Holt said. "There was a sense of community going on, everybody supported each other and went to each other's shows, when we weren't playing together, that is. It was pretty nuts though. You had Baloff and myself tormenting the poseurs; general mayhem was the norm, especially at Exodus shows. It was pretty much a well-known fact that our shows were the most violent you could find anywhere."
The "poseurs" were of course the glam-metal bands of the same period. The purists of the '80s thrash scene had a beautifully unhealthy hatred for the glam bands of the era and didn't even consider any of that dogshit to be real metal. It was just insipid eye-candy pop music played by and entirely designed for poseurs. When Slayer played at the Stone in San Francisco in November of 1986—right when Reign in Blood came out—facetious conversations circulated among the fans about how to later burn the club down because Poison was playing the next day. That was the mentality. Thrashers were just jonesing for something heavier, faster, uglier, sicker, more obnoxious and downright blasphemous. And Exodus exemplified this just as much as anyone.
"Anthrax played after us at the Kabuki theater and they were heckled—something awful," Holt explained. "And this is Anthrax, not some glam band. But it felt pretty damn great to know you were creating something new."
One has to be impressed that a band like Exodus is still keen on doing venues like the Blank Club in San Jose, when just last year they were gallivanting all across Europe for the zillionth time. In Europe, thrash metal never really went away like it did in the States, so the situation is somewhat different, but now Exodus is finally back here in San Jo. I mean, weren't these guys just gigging in Turkey or someplace like that?
"Let's be real," Holt said. "In the States we have to play smaller clubs out of necessity. Bigger markets mean bigger venues, but as long as we have a sweaty packed house, all's well in the world. Turkey was insane, and we've been to a lot of places over the last year or so that we've never been to, like Bangkok, and those shows were amazing. But we haven't played San Jose in a long time, since the old Cactus Club, I think, so this should be nuts."
Exodus plays on Friday (Aug. 10) at 9pm at the Blank Club, 44 S. Almaden Ave., San Jose. Tickets are $18–$20. (408.292.5265)
Send a letter to the editor about this story.