August 8-14, 2007
home | metro silicon valley index | columns | live feed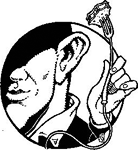 Live Feed
To Each Their Own? No Way!
By Stett Holbrook
IF I'M going to eat at a restaurant for the first time and I don't know if the food is any good, I consider it a positive sign if it's filled with people from the same country as the kind of food the restaurant serves, i.e., a Korean restaurant packed with Koreans. Even better is when I'm the only person in the restaurant who speaks English. I love that because I feel I'm immersing myself as deeply as I can in the food and culture of another country without actually visiting it.
The scores of immigrant-run restaurants and the expat communities they attract are a large part of what makes Silicon Valley such a great place to eat. But at the same time, there's something I don't understand going on here. Why do people living here or visiting the United States from other countries flock to restaurants that serve the same kind of food they eat in their home? Where's their sense of curiosity?
In the course of writing a story about the quality of the Japanese food in Silicon Valley a few months ago, I learned that many of the restaurants I profiled cater to Japanese businessmen in town to make deals. Japanese guys fly all the way across the Pacific to Silicon Valley and when they get here they rush to restaurants serving the same kind food they eat at home. I think that's bizarre, like jumping on a plane to Paris and ordering a Big Mac upon arrival.
If I were living in Thailand or Mexico or some other country, the last place you'd find me is in a restaurant filled with Americans eating burgers or barbecue or other American fare. Why travel across the world to hang out with a bunch of gringos and eat American food? I'd be on the lookout for great local food, not a grilled cheese sandwich. A large part of what motivates me to travel is the food. In fact, I think eating like a local is an obligation, like trying to learn the language. Food is one of the most direct routes to other cultures and I believe familiarity with another culture brings understanding of it.
For newcomers to America, it could be that there's nothing compelling about American food to tempt them. So eat something else! Silicon Valley offers dozens of different types of cuisine. Try a few of them and get a sense of our culinary diversity. Then again, maybe eating the food of home makes America feel less foreign and eases homesickness. If I moved to another country I'm sure I'd long for a bite of something familiar once in a while, but I'd still want to eat what the locals eat, because if I didn't I'd feel like was missing out.
I'm not saying newcomers to Silicon Valley should abandon their native cuisines, but branch out a little bit, people. You don't have to eat corn dogs and hamburgers while you're here, but I say letting your stomach guide you to new foods and experiences is part of what living in another country is all about. What's the point of visiting someplace new if you eat like you never left home?
Send a letter to the editor about this story.