August 8-14, 2007
home | metro silicon valley index | the arts | books | review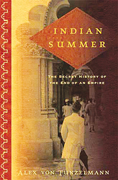 Indian Summer: The Secret History of the End of an Empire
(By Alex von Tunzelmann; Henry Holt; 401 pages; $30 cloth)

As we are learning in Iraq, building an empire is easier than ending one. Sixty years ago this month, the British stumbled out of India, all the while nursing what young historian Alex von Tunzelmann calls the "comforting fiction" that they left with honor, even though the riots following the partitioning of Pakistan were bloodbaths. The details of Indian independence make for a rich narrative embracing broad social trends and amazing individuals: Mahatma Gandhi, Jawaharlal Nehru, Mohammed Ali Jinnah and, above all, for von Tunzelmann's purposes, the last viceroy of India, Lord Louis (a.k.a. Dickie) Mountbatten and his wealthy, cheating and charitable wife, Edwina. Dickie, something of a screw-up in the Royal Navy, looked the part of the perfect British aristo: "impossibly tall, slim and handsome" and obsessed with ceremony. Edwina pursued very personal relationships with Indian leaders, especially Nehru, with whom she carried on a long-term affair. No doubt Edwina's work with refugees endeared her to millions, and her counsel to her doting (and equally adulterous) husband was significant, but von Tunzelmann's assertion that "the security of three nations—Britain, India and Pakistan—rested on one love affair being kept quiet" is hyperbolic. Von Tunzelmann is a lively prose stylist, which helps the sometimes heavy doses of internecine political tussles go down easy. During the early Kashmir conflict, she notes, "Any Pakistani officers familiar with Mountbatten's record as an operational commander might well have started planning their victory party."
Review by Michael S. Gant
Send a letter to the editor about this story.