August 8-14, 2007
home | metro silicon valley index | the arts | visual arts | review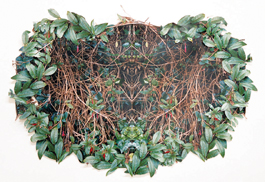 Tunnel vision: Theresa Ganz scissors free plant forms in her manipulated C print Cartouche No.1.
Natural High
Three shows at the Palo Alto Art Center take eccentric looks at nature
By Michael S. Gant
THE GREAT OUTDOORS comes inside for a trio of summer shows about seeing and interpreting nature at the Palo Alto Art Center. "Photography: Beyond Botanica" surveys the intersection of art and science in photographic experimentation. A case full of plates from Art Forms in Nature reveals the visionary plant photographs of Karl Blossfeldt. Working in the early part of the 20th century, Blossfeldt fashioned a camera that allowed him to take extremely detailed, highly magnified photographs of plants. Arranging individual plant parts (stems, seed heads, blossoms, petals) against empty white backgrounds, Blossfeldt managed to achieve both a scientist's rigor and an artists' eye for formal structure. Six curling frond tips from a maidenhair fern look like wrought-iron curlicues from an art nouveau railing. In a bit of found surrealism, a monkshood, with its delicately curving stalks ending in feathery fingerlike leaves, looks like a nymph stretching into wakefulness.
Englishwoman Anna Atkins (1799–1871), expanding on a process discovered by the astronomer John Herschel, laid plants directly on light-sensitive paper to produce cyanotypes (sometimes called sunprints or photograms). The light cannot penetrate the object, so that it shows as a negative image against a blue background. Since they record the object itself rather, these lensless images seem to hover between specimen and representation. The eeriness factor is enhanced by the strange blue backgrounds, as if Atkins had worked underwater. (The technique has caught the attention of modern photographers, among them Jerry Burchfield, who uses the term lumen prints for his plant prints of Amazon flora.) The exhibit's other highlights include a beautiful Imogen Cunningham gelatin silver print of magnolia blossoms from 1925; a witty cactus garden by Spanish photographer Joan Fontcuberta in which a lone thorned spike points in a different direction from all its fellows; and an elegantly drooping tulip in a glass vase by Hungarian André Kertész.
Across the foyer, in a separate room, Theresa Ganz displays photos turned into sculptural wall hangings. Ganz takes C-prints of plants, then delicately cuts away the background, so that the tangle of leaves, stems and roots remains, like botanical lace. In Cartouche No. 1, the overall impression is of a wreath, but a closer look can create a kind of vertigo, as if falling down a rabbit hole.
In a small installation—"Under Fragile Skies"—Renee Adams departs from the depiction of nature to create some imaginary beings of her own. Taking her cue from the fantastical illustrations of Ernst Haeckel, Adams has fashioned odd multicolored wooden beasties with stripped tentacles, encrustations of coral branches, sucker cells and fuzzy appendages. They are mounted under bell jars, as if on display in some alternative-universe natural-history museum.
The summer trifecta is completed by "From the Ground Up," a large survey of oil painting by Frances McCormack, many of them the result of the artist's meditation on natural landscapes. These color field abstractions feature many calligraphic gestures that could be seen as roots or tendrils. In Casa Milagro, passages of black and dark green surround a house (suggested by five red lines). In the center, a profusion of white-outlined leaf shapes proliferate exuberantly.
Beyond Botanica, Under Fragile Skies and From the Ground Up show through Sept. 9 at the Palo Alto Art Center, 1313 Newell Road, Palo Alto. The gallery is open Tuesday–Sunday. Admission is free. (650.329.2366)
Send a letter to the editor about this story.