August 9-15, 2006
home | metro silicon valley index | columns | silicon alleys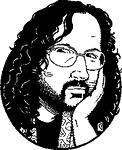 Silicon Alleys
Pointless Tech, Part Deux
By Gary Singh
SINCE ZeroOne is now in full swing, hopefully folks who normally think that art is just something that hangs on the wall in a museum will be enlightened at least a little bit. There will also be folks who don't understand this kind of art at all, which is perfectly fine as well. Of those who don't, all the expected topics of discussion will have already taken place by the time you read this: Is this art or just a showcase of some particular technology? Anyone can use a computer these days, so why is any of this crap important? I'm technologically illiterate, I can't even turn on a shaver, so why should I care about any of this? Gimme a Thomas Kinkade painting and I'm happy!
These are all relevant issues, believe it or not. Back when I infiltrated classes at the CADRE Institute for New Media at SJSU in the mid-'90s, these issues were dropped upon the students from day one. It was so easy to just fetishize technology and forget about what the hell you were trying to accomplish artistically. It just comes with the territory when you're exploring new machinery and new tools. Allow me to supply a perfect example.
In the summer of 1995, there was no way to broadcast a performance over the Internet except with a junky Macintosh program called CU-SeeMe. RealAudio emerged later that year, but in June of 1995, when a few of us did a music performance in Las Vegas and broadcast it back to CADRE, the entire concept of "streaming media" barely even existed yet. The World Wide Web had just emerged a year earlier, and it was just so cool and sexy and new to "broadcast a show over the Internet."
The project in question was a crazed adventure where the process of setting the show up probably constituted "art" much more than the end result did. A final project for Steve Durie's Art 103 class at CADRE, the gig took place at Fremont Street Blues & Reggae in Las Vegas. We took a Macintosh CPU and monitor as carry-on baggage on the Southwest flight to Vegas (back when that was still allowed), and set up the CU-SeeMe software to broadcast the show back to CADRE. In fact, the club had no phone, so we had to run 100 feet of RJ-11 phone line from the bar next door just to get online. Back at SJSU, the other students in the class awaited the show while sitting around drinking martinis and playing blackjack, just as if they were in Vegas.
But as soon as we went onstage in Vegas, the CU-SeeMe software crashed and the folks back at SJSU never wound up seeing us perform at all. It was a killer idea, but the technology just wasn't there yet. Throughout that weekend, I spent hours on the phone from Vegas with CADRE's technician Kelvin Chan in order to set this whole thing up, resulting in an 11-page phone bill from the Luxor Hotel. So I turned in the phone bill to teacher Steve Durie as the final documentation for the project. That was 11 years ago and he has long since lost the bill, but he gave me an A in the class.
Looking back on it, all I can say is that we were extremely adventurous types who discovered a then-untapped technology, latched on to it and tried to use it as a tool to do something creative. But in the constraints of the academy, that just wasn't enough of an explanation for some of the other professors. We didn't know how to intellectualize the details. They kept asking us stuff like, "So, you broadcast a show over the Internet. So what? What does that have to do with art?"
And I didn't have an answer for that. Remember, this was 1995 we're talking about. Anyway, all the artists and technologists taking part in ZeroOne this week have been through similar situations. Sometimes just getting the equipment to work right is half the show. In any event, I hope ZeroOne returns to San Jose for years to come. It makes all the suburban art & wine festivals look like bingo games at a Baptist old folks home.
Contact Gary Singh or send a letter to the editor about this story.