August 9-15, 2006
home | metro silicon valley index | music & nightlife | preview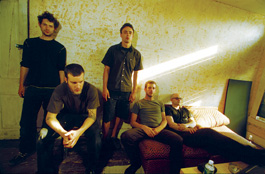 Marshall Matters: Isis' pulverizing, hypnotic metal might seem out of place on Montalvo's idyllic grounds.
Accepted Eclectic
Bleeding Edge allows the audience to draw their own conclusions
By Jim Haynes
'THE IDEA was to bring together an eclectic lineup that wasn't necessarily ticket-sales driven, but more creative and art driven," boasts Brett Allen, co-curator for the upcoming Bleeding Edge festival (which is itself the culmination of ZeroOne) at the Montalvo Arts Center in Saratoga. Eclecticism is certainly a driving principle for the festival, which features 24 bands sprawling the musical spectrum. But Allen and fellow co-curator Robert Crouch have avoided the folly of blindly picking from the musical grab bag of novelties and token gestures of "weirdness" typically ascribed to all things willfully eclectic. Rather, the two have crafted an intriguing roster of world-class musicians who hail from the realms of revivalist neofolk (Brightblack Morning Light, Luther Russell), charming indie pop (Yo La Tengo, Chemistry Set), hypnotic post-metal (Isis), and clinical electronica (Frank Bretschneider, Skoltz_Kolgen).
Crouch furthers the notions of Bleeding Edge's diversity by referring to the festival as "an exploration of the messy aftermath, the fluidity of genres that follows in the wake of the transgressive cultural moment." When questioned about the allegories behind these statements, Crouch elaborated, "What I'm describing with the phrase 'messy aftermath' are the artists who have an uneasy relationship to [aesthetic and methodological] conventions. Specifically, those artists who—perhaps self-consciously?—operate within certain parameters only to ultimately challenge those restrictions at the same time."
Bolstering their arguments against the conventional American festival experience, Allen and Crouch have also invited sound artists to set up installations at Montalvo, including William Basinski & James Elaine, Jeff Cain, Richard Chartier, Karen Lofgren and Steve Roden.
The Montalvo Arts Center is well suited to the ideals of Bleeding Edge, offering four distinct venues that each provide vastly different settings. Montalvo features two outdoor stages in the Garden Theatre and out on the Front Lawn, where the bulk of the indie and folk artists will perform, and the two enclosed spaces of the Carriage House and the Villa Main Hall, which will showcase the more experimental ones.
"These spaces really lend themselves to the diversity of artists," Allen posits. "For example, one of my favorite festivals, Coachella, near Palm Springs, has an amazing lineup every year, but everyone plays in a tent. Tents cover the grounds in different locations, which is really great, but these tents really suit some bands and don't suit others. I was really excited to get the opportunity to curate a show like this, because of the great venue and the diversity of art."
Los Angeles' stalwart post-metal ensemble Isis will be headlining Bleeding Edge and stands out as an exemplary encapsulation of the curator's ideals. For the past decade, Isis has deliberately pushed what could be qualified as metal and hardcore by fusing a repetitive hypnosis and a loud/quiet dynamic onto the genetic scaffolding of metal's propulsive backbeats and monolithic riffs. As brutal and pummeling as Isis has been on albums such as Celestial and Oceanic, the band's sophistication and successful experimentation revealed themselves most fully on the 2004 Panopticon album, complete with Foucauldian framing concepts about omniscience and paranoia alongside a cinematic landscape of power chords, minor-key melodies and frightening ambience.
Last year, Isis commissioned a number of remixes for its Oceanic album from such vanguard electronic technicians as Fennesz, Venetian Snares and Tim Hecker. For Bleeding Edge, Isis will continue this cross-pollinating spirit by premiering a live collaboration with Montreal's Tim Hecker, whose work with digital synthesis has resulted in billowing collages of densely packed textures and smeared melodies.
San Francisco's darlings of avant-electronics Matmos continue the collaborative spirit at Bleeding Edge by working with Zeena Parkins, best known for her expressive and pioneering work with the electric harp. The Matmos/Parkins collaboration will mark the culmination of a residency at Allen's SnowGhost Sound Studio in the Montana wilderness. Their performance at Bleeding Edge is the only U.S. date for this material, before Matmos and Parkins head off on a European tour.
Matmos and Parkins are not the only beneficiaries of a residency at SnowGhost, as Allen and Crouch opened a juried competition with the winning acts getting the opportunity to perform at Bleeding Edge and receive a recording session/residency at SnowGhost. The winners include two San Jose products—the Mumlers and Corpus Callosum—alongside Seattle's Obelus and Berkeley's Morning Benders.
Allen explained, "There aren't really any big breaks anymore. There just isn't a budget for it. I run a recording studio and travel around the country looking for bands. We don't call ourselves a label; we are more like investors as we find talent and give them studio time. We wanted to incorporate that idea into the festival, and we really wanted to use the studio as an asset."
The seven members of the Mumlers augment traditional rock arrangements with a polyglot of instrumentation (e.g., lap-steel, cello, horns, etc.). Corpus Callosum takes a DIY junkyard approach to Americana, quite literally using the kitchen blender within its Tom Waits-esque concoctions. The Morning Benders strive for those enduring qualities of bittersweet, summery indie-pop. Obelus use drums and guitars as triggers for the encyclopedia of samples, which hold to rigid hypnotic patterns more in common with the motorik aspects of contemporary electronica.
While the juried competition is a testament to the philanthropic ideals that Allen and Crouch embedded within the festival, the lineup for the entire event is packed with dynamic performances. For example, the highly acclaimed spectral soft rock of Brightblack Morning Light will be onstage at the same time as the equally ballyhooed tape manipulations from William Basinski. Later in the afternoon, the feral drone battery Sunroof! will march toward cosmic harmonics through self-immolation while Yo La Tengo will drop hints of the quintessential jangle pop from their forthcoming album I Am Not Afraid of You and I Will Beat Your Ass.
The Bleeding Edge festival professes an allegiance to the risk of failure inherent to experimentation that is wholly lacking in the American circuit of music festivals, finding more in common with the expansive practices of events such as the annual Sonar festival in Barcelona. Allen and Crouch would never say that Bleeding Edge offers a little something for everyone. Instead, these progressive festival pioneers unveil their "messy aftermath" complete with stark counterpoints and demand that the audience sort it out for themselves.
The Bleeding Edge Festival happens Sunday, Aug. 13, at noon at the Montalvo Arts Center in Saratoga. Tickets are $50. For a complete schedule for the festival, check out www.bleedingedgefestival.org.
Send a letter to the editor about this story.