August 9-15, 2006
home | metro silicon valley index | silicon valley restaurants | review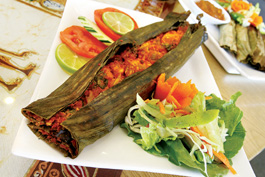 Photograph by Felipe Buitrago
Don't I get a banana?: At Bay Leaf, you do, as evidenced by this plate of Balinese banana shrimp.
Indo Sports
Sunnyvale's Bay Leaf is a rare chance to sample the fine food of Indonesia in Silicon Valley
By Stett Holbrook
If you come to a fork in the road at Bay Leaf restaurant, take it to Indonesia. The menu at Sunnyvale's Bay Leaf is divided into Thai and Indonesian food. Thai food is as common in Silicon Valley as burgers and pizza. It's good, but you've probably had it before. Indonesian food is harder to come by. As far as I know, Bay Leaf is the only place in Silicon Valley that serves it. Give the pad thai and green curry a break and make a detour to the Indonesian side of the menu.
For the newcomer, Indonesian food isn't much of a leap if you like Thai food. It can be spicy. Rice, coconut milk and aromatic spices are key ingredients. But where Thai food is characterized by bright, high notes powered by chile peppers, fish sauce, lemon grass and other easily distinguished ingredients, Indonesian food strikes a lower bass note. While it can be blisteringly spicy, in comparison to Thai food it's earthier, subtler and more rustic. The food is also more cosmopolitan than the relatively insular cuisine of Thailand and has more in common with polyethnic Malaysian food.
Indonesia is an archipelago of some 18,000 islands. Culinarily speaking, the food across these islands is quite diverse. In addition to regional differences (there are about 300 ethnic groups), Indonesian food has been greatly influenced by its contact with the rest of the world. The Dutch occupied the country for more than 300 years and left their mark. Indian, Chinese, Arab, Portuguese, English and Spanish traders have also had an influence the nation's cuisine, making Indonesian food a lesson in how ingredients and cultures migrate around the globe.
Seven-month-old Bay Leaf is a simple but clean place. It's especially pleasant when the air conditioning is working. When it's not, as was the case on one of my visits, just pretend you're sweating it out in Jakarta and have another Singha beer.
For starters, gado gado ($5.25) and pork satay ($6.95) are two of Indonesia's best-known dishes. Gado gado combines warm, steamed cabbage (a Dutch import) with chunks of squash and tofu in a sweetish peanut sauce. Less good was the satay, or pork skewers. The meat was dry and underseasoned, but the accompanying peanut sauce was good.
Rice and chicken are staples of Indonesian food and Bay Leaf has both in abundance. Balinese spicy chicken ($7.95) coats morsels of boneless fried chicken in a bright red, moderately hot chile sauce. The mahogany-colored Batavia chicken ($7.95) is milder. The dark-meat, bone-in chicken is marinated in palm sugar and then flash-fried.
For a great introduction to Indonesian food, go for the Jakarta combo plate ($7.95), a kind of workingman's lunch, with spicy sweet chunks of beef, moist curry chicken, scrambled eggs, spicy peanuts, fried salty-sweet anchovies and pickled vegetables. The creamy and rich coconut milk-flavored rice underlying the whole thing is great.
Bay Leaf has several chalk board specials, and one of the best I had was pepes udang ($9.95). It's called grilled shrimp, but it's not grilled at all. Fat shrimp are steamed in a banana leaf bundle with a blazingly hot paste made from coconut milk, lemon grass, tomatoes and other spices. The result is an intensely flavored, spicy sweet dish. However, on a second visit the shrimp lacked the tender juiciness I remembered and were way overcooked.
Spicy shrimp with fried potatoes ($8.95) uses the same spicy seasoning, but adds what are endearingly called "stink beans." The bright green, lima-bean-size beans do indeed pack a funky, musty scent, but they're good—nutty and a little salty with a shiitake mushroom-like aftertaste.
If stink beans scare you, go for the tamer curry beef stew ($7.95). Thick chunks of tender, slow-cooked beef shimmer in a thick sauce made with coconut milk, onions, cinnamon, nutmeg and galangal, a gingerlike rhizome. For me, this is a quintessential Indonesian dish, deep, rich and soulful.
I didn't know what to expect with the oxtail soup ($8.50) but it ended up being one of the best dishes I had. I think of oxtail as a heavy dish, but the thin broth was light and refreshing, especially with a squeeze of lime supplied with it. The oxtail itself had cooked for more than three hours and was fall-apart tender.
I confess I was too full to try any of the desserts such as the black sticky rice in coconut milk ($3.50) or the mango sticky rice ($5.95.) But since a couple of dishes had set my mouth on fire, I ordered several of Bay Leaf's "tropical beverages," drinks that work as fire extinguishers or desserts. Es cendol ($2.95) is a creamy, cooling blend of rice flour and palm sugar made into gummy bear-like candies mixed with coconut milk. Even better is es teler ($2.95), a tropical treat that combines avocado, coconut meat and jackfruit with creamy coconut milk and shaved ice.
---
Bay Leaf
Address: 122 S. Sunnyvale Ave., Sunnyvale
Phone: 408.481.9983.
Hours: 11am-3pm and 5-9:30pm Mon-Thu, 11am-10pm Fri-Sat and 11am-9pm Sun.
Cuisine: Thai and Indonesian.
Price Range: $5.95-$9.95.
Send a letter to the editor about this story.