August 9-15, 2006
home | metro silicon valley index | movies | current reviews | film review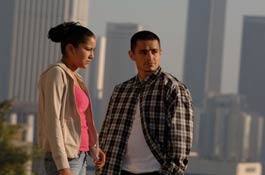 Courtesy Sony Pictures Classics
L.A. Dreamers: Emily Rios and Jesse Garcia stand out against the high rises of L.A. in 'Quinceañera.'
Fiesta
Generous and good-looking 'Quinceañera' uses Latino rite of passage as an emotional springboard
By Richard von Busack
ONE OF a film director's duties is harmonizing the acting styles of the cast. Overlook Richard Glatzer and Wash Westmoreland's inability to mesh the every-emotion-on-command character actors with the tentativeness of artless nonprofessionals, and Quinceañera is highly recommended. The film has a lot of appeal and a lot of optimism. And it unveils a rite many Anglos don't know about, the 15th birthday debutante party. After a session of commemorative photos at the rose garden in L.A.'s Exposition Park, an all-female quinceañera court is ferried to a nightclub in a stretch Hummer limo. The honored girl's cousin Magdalena (Emily Rios) is an outsider, the daughter of a Protestant storefront preacher. Her own quinceañera is coming up, and she is jealous, because it won't be celebrated with such royal style. Magdalena is also distracted by her perhaps cheating boyfriend. She's not quite convinced by the text messages he's sending her: "U R Still in My Heart."
The evening is disrupted by the black sheep of the family, who wasn't invited. Carlos (Jesse Garcia) is a kid with an y que attitude, a coffin-shaped stash box in his pocket and the numerals "213" tattooed on his neck. Later, when family trouble strikes, Magdalena and Carlos end up moving in with their 83-year-old Tio Tomas (Chalo González). Carlos turns out to have a good reason for being an outsider: He's drawn to men. He sets off the gaydar of the householders living in the front of his uncle's apartment—Gary (David W. Ross) and James (Jason L. Wood), a pair of gentrifiers with Industry money in their pockets.
This Echo Park movie makes its rough-and-ready neighborhood look as scenic as Oaxaca. The palm fronds gleam from their monsoonal baths. A few clouds still scud across the heavy sky, the hillsides are richly green and the park benches are scribbled with stylish-looking graffiti. You never get these picturesque L.A. locales in a movie without gangsters and guns, ever. Here, the only explosions comes from the Cinco de Mayo fireworks. Glatzer and Westmoreland are fine writers, skilled in creating dialogue and in knowing when to subtract it. Unlike many indie filmmakers, they have also worked on the visuals and on the camera moves. In the beginning, they engineer a relatively complex shot of a plate of food snaking its way through the party, so we can get a look at the guests.
We tour the neighborhood when Tio Tomas goes on his rounds, selling hot drinks from a pushcart. Gonzales is studiously saintly; observe the difference between his wise-old-man acting and Rios and Garcia, who seems to be breaking new ground in every scene. The magazine writers are buzzing around Rios, as they did a few years back over Michelle Rodriguez in Girlfight. Overpraise is damning. I think Garcia is more impressive; he's the exact opposite of a stereotyped trouble-boy, and it's a brave role for a young actor to take. Quinceañera is a minor revelation, and if it weren't for the uneasiness of the acting, it'd be one of the best films of the year.

Quinceañera (R; 90 min.), directed and written by Richard Glatzer and Wash Westmoreland, photographed by Eric Steelberg and starring Emily Rios and Jesse Garcia, opens Aug. 11.
Send a letter to the editor about this story.