August 9-15, 2006
home | metro silicon valley index | movies | current reviews | festival review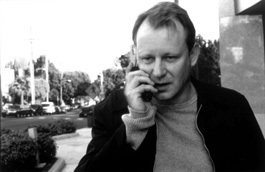 Hello, Tomorrow: Stellan Skarsgard text messages the future of filmmaking in Mike Figgis' innovative 200 film 'Time Code,' which plays Friday at the Parkside Hall as part of the ZeroOne Festival in San Jose.
ZeroOne—The Movie
San Jose's downtown tech spectacle includes a healthy dose of reel-time art
By Michael S. Gant
THE WEEKLONG wired jambalaya that is ZeroOne features a number of offerings for cinephiles, among them a surprising new take by director Mike Figgis on his 2000 feature Time Code. Figgis (Leaving Las Vegas, Internal Affairs) brings his quadri-vision film to town for what he calls The New Live Mix, changing the emphasis by redoing the sound. The film follows a regular obsession for Figgis, an essay on the forces of synchronicity and coincidence. The film is set in real time, taking place for the most part in one Sunset Strip building and on the sidewalk in front of it. The action is recorded on four cameras simultaneously and shown in four frames.
The narrative is a love quadrangle interrupted by a series of strong earthquakes. The main focus is a blow-up between two lovers: a seething, jealous, wealthy older woman, Lauren (Jeanne Tripplehorn), and her younger, and apparently kept, girlfriend Rose (Salma Hayek). Lauren flattens Rose's tire to make sure that she can drive the girl to her audition for some sort of New Jack soft-core garbage film titled Bitch From Louisiana, which is in development by Red Mullet, a small and desperate film production company.
One of Red Mullet's producers, Alex (Stellan Skarsgard), is in crisis, having just been left by Emma (Saffron Burrows), the woman he loves. Alex is also in midaffair with the demanding Rose. Emma's wanderings, Lauren's rage, and Alex and Rose's desperation come to a deadly climax. Behind the avant-garde technique, Time Code is a Hollywood satire too specific to lure a viewer past the intimidating gimmick. Too often, the film has the same problem that plagues TV viewers in a fringe reception area: four channels and nothing's on. But maybe the director's remix will juice up the action. (Plays Aug. 11 at 8pm at Parkside Hall, 180 Park Ave., San Jose. Tickets are $15.) (Reviewed by Richard von Busack)
Also of note is Strange Culture by Lynn Hershman Leeson. Over the decades, Hershman Leeson has been responsible for some of the best new-media film projects, including her collaborations with Tilda Swinton: Conceiving Ada and Teknolust. Her new documentary focuses on the trials and tribulations of geneticist and artist Steve Kurtz, who was harassed by the authorities after the death of his wife, when they mistook his artistic experiments for a kind of bioterrorism. (Shows Aug. 11 at 6pm at Camera 12 in San Jose; tickets are $20.)
Other film events include Live Cinema Nights (Aug. 9-10) at Club Glo, 396 S. First St., San Jose. In addition to sound and image mixes on the fly, the highlight here is a Wednesday (Aug. 9) show of avant-garde veteran Stan Brakhage's classic Dog Star Man in five parts (76 min. in all; 9:30pm)—a highly recommended meditation on the evolution of the universe. On Thursday, at 7 and 9pm, Camera 12 hosts Michael Lew's Junkyard of Dreams, a "film performance" with live music and narration; tickets are $15. Adriene Jenik's SPECFLIC 2.0 is a free outdoor interactive film about the future of information-gathering to be shown on the exterior walls of the Dr. Martin Luther King Jr. Library (Aug. 9 at 9:30pm).

For details about Zero One, see www.01sj.org.
Send a letter to the editor about this story.