08.12.09
home | metro silicon valley index | columns | silicon alleys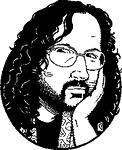 Silicon Alleys
Friday Art and Jazz
By Gary Singh
LAST WEEKEND, the anti-man-about-town returned from a much-needed slumber and forged a pathway through a superior First Friday event in downtown San Jose. By now, most folks already know about the South First Fridays art walks in the SoFA District, but last Friday, the entire shebang meshed with the opening night of the San Jose Jazz Festival, providing some extra special oomph for the throngs who showed up. The "Jazz Beyond" stage occupied First Street just south of San Carlos, anchoring an urban do-it-yourself street market, which, in turn, anchored the First Friday event.
This time around, almost all of the dozen galleries and spaces presented new shows for the occasion. Anno Domini featured "Walking in the White," a solo exhibition by Brazilian artist Pjota. Over at WORKS/San Jose, a show in collaboration with the CADRE Lab for New Media at SJSU, titled "Polar Identity," opened, featuring several international artists. One of those artists, Phil Boissonnet of Montreal, was on hand.
The Art Glass Center of San Jose, a brand-spanking-new player on the scene, featured a live glass-blowing demonstration by Lionel Chapital. Another show, "Make a Jazz Noise Here," opened at the SLG Art Boutiki & Gallery, a comic book shop/art space right where Market and First Street converge. The San Jose Institute of Contemporary Art premiered a solo exhibit, "Christel Dillbohner: Ice Floe," featuring a large-scale installation, plus multimedia prints and paintings—all referencing the melting glaciers of the Arctic and Antarctic regions.
Right smack in the middle of all the activity, Jose Arenas debuted A Place in Mind, a large-scale mural all along the side of the old Cactus Club building, facing the parking lot at the corner of First and San Salvador streets. Sponsored by 1stACT Silicon Valley, the mural conceptually depicts Arenas' life growing up in downtown San Jose. Even better, the entire night's events were streamed live over the World Wide Web from four different places: Anno Domini, KALEID Gallery, ICA and WORKS/San Jose. Many jazz festival patrons migrated on over and brought an entire new dimension to the First Friday experience.
The "Jazz Beyond" stage featured a rare San Jose appearance of MIDIval PunditZ and Karsh Kale, East Indian electronica legends that both recently graced the cover of the India version of Rolling Stone. Their sound fuses an East/West combo of international electronica, global pop, Indian folk and neoclassical with modern-day songwriting and some killer tabla playing. It definitely makes one contemplate: Here's another scene—South Asian electronica—that should absolutely thrive in San Jose, rather than having everyone drive to San Francisco, Sunnyvale or Fremont.
The street market featured half of a city block's worth of local independent artists and retailers peddling their wares, everything from comic books to jazz LPs, from glass art to urban design. And since KFJC-FM (89.7) at Foothill College is celebrating its 50th anniversary all throughout 2009, that station has recently thrown itself into the goings-on of the First Friday affairs, while also sponsoring similar activities like the recent SubZERO festival. Not trying to target any one particular market segment and grind on it forever and ever, KFJC has for years offered the most musically adventurous selection of folks ever assembled at any one college station anywhere around these parts. Quite a few DJs have been there for more than 20 years.
Thus a metropolitan nighttime bohemian art scene, one that functions just fine by itself, actually transformed into another tentacle of the Jazz Festival, proving that maybe all these institutions can actually collaborate without being at each other's throats half the time. Over at Downtown Yoga Shala—a more tranquil pit stop for First Friday gallery nomads—the anti-man-about-town continued to freeload glass after glass of ginger tea while taking in some yoga-inspired artwork. "You come in here and you just immediately feel relaxed," owner Veronica told him.
Contact Gary Singh or send a letter to the editor about this story.